Gerald Davies joins birthday celebration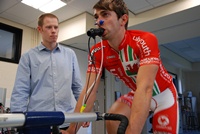 Dr Mark Burnley (left) carries out the priming warm-up technique on Gruff Lewis, who works at the University Sports Centre and is a semi-professional cyclist.
Have you ever wondered what goes on behind the scenes at one of the country's state-of–the-art sport science laboratories? Would you like to meet with the 'white coats' at Aberystwyth University's Department of Sport and Exercise Science?
The Department will open its doors to the public on Sunday morning between 10am-12pm (27 May) to celebrate its tenth anniversary, which also coincides with the Olympic Torch celebrations at Aberystwyth.
As well as a tour and providing demonstrations of the laboratories, the Department will also welcome the former Welsh International and British Lion, Gerald Davies CBE, along with ex-Welsh International, Dafydd Jones to a formal dinner and *Gregynog Lecture on Saturday 26 May.
Although founded in August 2002, Gerald Davies officially opened the Department in 2004 when they moved to the purpose built Carwyn James building. Since it was formed, the department has made a significant contribution to sport and exercise research.
Dr Joanne Thatcher, Head of Department, commented: "We look forward to welcoming local people, new and old graduates as well as important guests here over the weekend to celebrate this historical milestone with us.
"This year, the Department was ranked in The Guardian University Guide as third best in the UK and the best in Wales. We have grown considerably over the last ten years and we're very proud of what we've achieved to date."
Recent research to have made the headlines includes Dr Mark Burnley's new warm-up technique called "priming" which can help improve an athlete's performance and make the difference between gold and silver. Dr Burnley has been studying how priming increases concentration of lactate in the blood, making the blood acidic and ultimately, improving performance. The work improves performance in any event that lasts from around two minutes up to about 30 minutes.
Another important research theme involving local members of the community and the health services has focused on helping individuals with diabetes. Scientists at Aberystwyth are exploring links between low levels of vitamin D and type 2 diabetes, as well as the effects of different exercise types on the condition.

AU13712