Bioscience nets £13m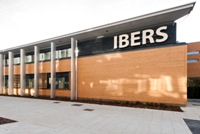 Minister of State for Universities and Science, David Willetts, will today announce substantial funding for bioscience research in the UK which includes £13m for the Institute of Biological, Environmental and Rural Sciences (IBERS) at Aberystwyth University.
The funding is provided by the Biotechnology and Biological Sciences Research Council (BBSRC) which has allocated up to £250M of strategic investment that includes 26 strategic science programmes and 14 key national research capabilities, to be delivered by eight of the UK's world-leading bioscience research institutes including IBERS.
The investment will help the UK to meet challenges such as sustainably feeding the growing world population, finding alternatives to dwindling fossil fuels and supporting an ageing society to remain healthy for longer.
Commenting on the funding, Minister of State for Universities and Science, David Willetts, said: "This £250 million investment from BBSRC for the first phase of major five year research programmes will sustain excellent science at some of the UK's leading institutes and universities. This will drive growth, support highly skilled jobs and keep the UK at the very forefront of bioscience, with benefits ranging from healthcare to energy and global food security."
Professor Wayne Powell, Director of IBERS said:
"The announcement by the Minister of State for Universities and Science is a major milestone in the development of IBERS as a world-leading bioscience research institute. It recognises the excellent research that is being done here at IBERS to tackle some of the pressing issues faced by the world today, climate change, food and water security, and the need to replace fossil fuels."
IBERS is one of eight institutes to receive funding. All have a vital role in supporting BBSRC's mission to further scientific knowledge to promote economic growth and job creation in important sectors such as food, farming, renewables and pharmaceuticals.
The grants will support research, key national scientific infrastructure, knowledge exchange, public engagement and institute development.
Professor Douglas Kell, BBSRC Chief Executive, said: "By almost all measures the UK has the world's best bioscience research base. BBSRC's strategic funding of institutes with distinct missions and unique national facilities is one of the reasons we achieve this. However, being the best doesn't mean much unless you make a difference in the world. Through their close links with industry and policy makers, and through engaging the public, the institutes are at the forefront of translating fundamental bioscience into products, services and advice.
"This investment is a major commitment to realising the potential of a bio-based economy in the UK. This is only possible through a sustainable, excellent fundamental research base with the right people, skills and facilities."
The £6.8m National Plant Phenomics Centre at IBERS Gogerddan, which was officially opened just over a week ago, is one of 14 important strategic UK capabilities to be further funded as part of the latest the BBSRC announcement.
Professor April McMahon, Vice-Chancellor at Aberystwyth University welcoming the investment commented: "This superb news comes soon after the openings of our two new IBERS buildings which already represent a considerable investment by both BBSRC and Welsh Government. We look forward to working in partnership with BBSRC to develop research led solutions to 21st century challenges."
The Institute of Biological, Environmental and Rural Sciences (IBERS)
http://www.aber.ac.uk/en/ibers/
IBERS is a world class award winning research and teaching centre at Aberystwyth University. IBERS is an internationally recognised centre of excellence and students' choice for the study of biological, environmental and rural sciences.
IBERS is a new venture that has brought together staff from the Institutes of Rural Sciences and Biological Sciences at Aberystwyth University, and the Institute of Grassland and Environmental Research (IGER). Around 300 research, teaching and support staff conduct basic, strategic and applied research in biology from the level of genes and other molecules to the impact of climate change and bio-energy on sustainable agriculture and land use. They also provide high level research and skills training. There is formal collaboration with the College of Natural Sciences in Bangor University.
By linking the processes and results of our scientific investigations to the work of social scientists in Aberystwyth and Bangor we are able to inform policy on the rural economy and on rural communities.

AU16612