An Olympic weekend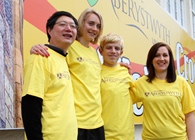 The four Olympic Torchbearers from Aberystwyth University Qiang Shen, Susanna Ditton, Shon Rowcliffe and Bridget James at the University's Vicarage Fields.
Aberystwyth is to host a number of sports events this weekend in preparation for the Olympic Torch celebration on Sunday night (27 May).
Today (25 May), Aberystwyth will host round five of the 2012 Halfords Tour Series at 7pm by the Old College in town.
Thanks to a unique financial collaboration between Aberystwyth University, Aberystwyth Town Council, the Welsh Government and the UK's largest bicycle & motorcycle tyre distributors, Cambrian Tyres, this series will return to Aberystwyth for a second year.
On Saturday, a 7s football tournament will kick off at 9.30am at the University's Blaendolau Fields which will see 28 teams compete in a round robin knock out competition.
Organised by the University's Sports Centre, this event aims to be slightly different from other football tournaments by combining all the best aspects of the mini game with music, fun and enjoyment.
To mark its tenth anniversary, the Department of Sport and Exercise Science will open its doors to the public on Sunday morning between 10am-12pm.
If you have ever wondered what the 'white coats' at sport science laboratories do - this will be your chance to meet them and find out.
Then the evening celebrations for the Olympic flame will take place on Aberystwyth University's Vicarage Fields at 5pm on Sunday evening.
The line-up includes Britain's Got Talent finalists' Twist and Pulse, dance duo and Got to Dance winners of 2011, Chris & Wes, as well as the up-and-coming band Kids in Glass Houses.
Highlights of the Halfords Tour Series will be screened on ITV4 at 8:00pm on Monday 28 May.
Aberystwyth University Pro Vice-Chancellor, Professor Martin Jones said; "As a world class educational establishment, we're right on board in drawing major events to the town, showing the public that Aberystwyth is a serious venue for both students and tourists.
"The town has a unique character, a special year round vibrancy that you will not find elsewhere. It has a range of cultural, sporting and social facilities that are the envy of larger cities and now we're working with the other stakeholders to establish this event as an annual showpiece for both Ceredigion and Wales as a whole."
Cyclists of all abilities will be able to get involved throughout Friday and also on Saturday as part of the Aberystwyth Cycle Festival.
Halfords Tour Series – Friday 25 May
Time Details Class Length
2.00pm  Years 3 & 4 Ceredigion Schools Race GoRace 1 lap
2.15pm  Years 5 & 6 Ceredigion Schools   GoRace 2 laps
2.30pm  Secondary Schools Race 1 Mountain Bikes GoRace 2 laps
2.45pm  Secondary Schools Race 2 Road Bikes GoRace 3 laps
3.00pm  Town vs Gown Challenge   Go-Race 20mins + 1 lap
3.30pm  Aberystwyth Seafront Criterium  Regional C+ 30min + 2 laps
5.00pm  Aberystwyth Seafront Criterium  Regional B 45min + 2 laps
6.00pm Halfords Tour Series riders presentation – Podium at Start / Finish
7.00pm  Halfords Tour Series    E/1/2  1 hr + 5 laps
AU13812