The Urdd Chair for Gruffudd Antur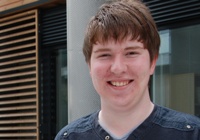 The winner in the Chair competition at the Urdd Eisteddfod in Eryri this year is Gruffudd Antur, a second year student at the Institute of Mathematics and Physics at Aberystwyth University.
Gruffudd was born in Llanuwchlyn, and learned the skills of cynghanedd (the strict meters of Welsh poetry) during his years at Ysgol y Berwyn, Bala.
He won the Chair for Aberystwyth at the Inter-collegiate Eisteddfod in Cardiff last year and Bangor this year; he was also the chaired poet at Llanuwchlyn Eisteddfod in 2011.
Gruffudd will return to Aber to complete his degree in September, and then he hopes to continue his studies at postgraduate level.
The task for the 13 competitors for the Chair this year was to compose a poem of no longer than 100 lines in either strict or free verse on the theme of "Cylchoedd" (Circles). In it, Gruffudd discusses the circles of Welsh political and social life.
The judges were Rhys Iorwerth and Ifan Prys. In their adjudication, they said:
"This is a well crafted and timely awdl (strict meter poem) that shows how Saunders Lewis' historic 1962 lecture, Tynged yr Iaith, is relevant to the poet's life as a student at Aberystwyth University today, and to Wales as a whole."
"He is a fine practitioner of the art of cynghanedd, a masterful and skilled poet."

The Chair was presented to the young poet in a ceremony in the Eisteddfod pavillion on Thursday afternoon, 07 / 06 / 2012.
Congratulatulations to Gruffudd on his great achievement!

AU19312