Student-led Teaching Awards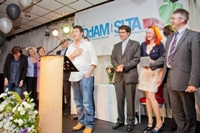 Dr James Vaughan receives the Department of the Year award on behalf of the Department of International Politics.
The Department of International Politics scooped the Department of The Year award at the very first Student-led Teaching Awards to be held by the Aberystwyth Guild of Students on Thursday 24th May.
Hosted by the Guild's Education Officer Jess Leigh and Professor John Grattan, Pro-Vice Chancellor for Learning, Teaching and Employability, the evening was a celebration of teaching excellence as well as the contribution of support staff and student representatives.
Nominations for the Awards were invited from students both online and in conventional ballot boxes – ten of which were located at different locations around the University.
In all over 200 nominations were received with the winners and runners up chosen by a committee of Guild officers and Professor Grattan.
Event organiser Less Leigh said: "The event was big success due to a buy in of staff and students. Without their enthusiasm it would not have been such as success. It is an opportunity for students to thank and reward staff from whatever part of their university life for the work they have done with them and for them and to celebrate together.
This was the first event of its kind in Aber and we are hoping it will become an annual fixture, with the all-important Department of the Year award being hotly contested," Jess added.
Professor John Grattan said: "This is an excellent initiative on the part of the Guild of Students and I congratulate them on what was a very successful evening. Aberystwyth University has an enviable reputation for student satisfaction in teaching. What better way of recognising this than giving students an opportunity to voice their opinion on whom they feel are the star performers when it comes to teaching and inspiring them."
"It is also good to see support staff being acknowledged for their contribution as well as the students who play such an active role in providing feedback to Departments."
The organisers are looking to attract nominations from distance learners and part time students next year and are hoping to attract sponsorship from alumni for one of the awards.
The Awards were modelled on a successful pilot project jointly undertaken in Scotland by the National Union of Students and the Higher Education Academy.
And the winners are….
Most Creative/Innovative Teaching Award
Winner: Professor Alex Maltman (IGES). Presented by Will Atkinson (IGES)
What the students said: 'Single most fascinating inspiring man I have ever met. So many interesting anecdotes, never a boring lecture makes me want to do Geography forever. Every lecture was amazing. All lectures provided enough information with a sense of humour; I was always excited to go.
Runners Up: Dr Lucy Taylor (International Politics); Dr Simona Rentea (International Politics); Dr John Warren (IBERS).
Technology-Enhanced Learning Award
Winner: Dr Hazel Davey (IBERS). Presented by Daniel Zoppellini
What the students said: 'Hazel has tried really hard over the past year to incorporate technology into lectures. We have had online lectures; this was something we could take part in at home without needing to go to the University. Hazel has put a large number of resources on Blackboard for student centred learning. No other lecturer has incorporated this amount of internet or computer based material in a single module, and she only led half the lectures! Therefore, I think Hazel deserves this award more than most.'
Runners Up:
Professor Chris Thomas (IBERS); Dr Jenny Mathers (International Politics); Dr John Follett (SMB).
 
Support Staff of the Year
Winners: David Price and Phil Jones (School of Art). Presented by Gemma Western and Kerry-Ann Pimlott (School of Art).
What the students said: 'The porters are always happy, polite and helpful, and there have been so many instances where the porters have gone the extra mile. They always have a smile and a joke for everyone and I would really like them to be recognised for the amazing job they do for the School of Art. They make it a pleasure to be a part of and I have never heard anyone with a negative thing to say about them.'
Runners Up: Martin Davies (International Politics); Anna Cole (Psychology); Rhiannon Evans (European Languages).
Course Rep of the Year
Winner: Gemma Western (School of Art)
Presenter: Jess Leigh
What the students said: 'Gemma works very hard to try and get the best representation for the students in the School of Arts. She is an active, contentious member of the Course Rep team, so helpful, always smiling, and approachable.'
Runners Up: Will Pryce (need department); Rachel Say (need department); Alice Wooler (need department).
Personal Tutor of the Year
Winner Dr Jayne Archer (English and Creative Writing). Presented by Grace Balchin.
What the students said: 'Jayne is an incredibly supportive and understanding member of the English department. She chooses to interact directly with students and encourage and challenge any ideas that are brought forward to her. Her dedication to meeting with students outside of the times that she is obliged to, illustrates her passion and genuine approach to being a University tutor.'
Runners Up: Dr Pippa Moore (IBERS); Dr Stephen Atherton (Education); Professor Will Haresign (IBERS).
Employability Links
Winner: Carolyn Parry (Careers Service). Presented by Mat Keegan
What the students said: 'Carolyn is one of the most dedicated members of staff I have ever had the honour of knowing. Her passion and drive is unwavering and the time and energy she has put in to helping our department with employability is outstanding. Her confidence gave me the confidence to start my own business, something I'd never had done without her help. I can think of no-one more deserving of this award.'
Runners Up: Julie McKeown (School of Management and Business); Dr Mark Smith, (Institute of Geography and Earth Sciences); Megan Williams (School of Management and Business).
SSCC Development Award
Winner: Sport and Exercise Science Undergraduate SSCC
What the students said: 'The committee has been constantly impressive throughout the year, setting the standard for student engagement at Aberystwyth. Well organised, thorough and constructive meetings ensure that the student voice is heard in a meaningful way, providing an effective means of dialogue between the department and its students. Engaging representatives remain approachable and accessible to the large student body, whilst staff are supportive and attentive to the Committee and realise its importance. Without a doubt, the Committee is a credit to the department and to the University as a whole.'
Runners Up: International Politics Undergraduate SSCC; IMAPS Maths SSCC; IBERS Undergraduate SSLC.
Department of the Year
Winner: International Politics
What the students said: 'I think this department should be commended in several areas; the high quality of lecturing staff, the exceptional postgraduate seminar tutors, the talks and speakers that the department host, and the opportunities that are constantly being made available. It is obvious to see that this is one of the best departments in the country, leading on its subject content worldwide. Interpol should receive this award as a collective acknowledgment of the members of academic and administrative staff's commitment to creating an overall amazing student experience.'
Runners Up: History and Welsh History; Institute of Geography and Earth Sciences; Institute of Biological, Environmental and Rural Sciences.

AU17712