Waitrose Fellow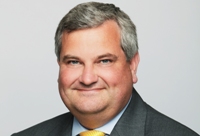 Mr Mark Price, Managing Director of Waitrose.
Mr Mark Price, Managing Director of Waitrose, has been honoured as Fellow of Aberystwyth University.

Mr Price was presented by Professor Wayne Powell, Director of the Institute of Biological, Environmental and Rural Sciences (IBERS) during the graduation ceremony on Wednesday morning 11 July.

Unable to attend the ceremony in person, Mr Price sent a video message which was shown to members of the congregation in which he thanked the University and IBERS for the partnership that has been established with Waitrose.

Presenting Mr Mark Price, Professor Wayne Powell said: "Mark Price is an outstanding business leader who has shown immense commitment to UK farming and to our University. 

"Mark joined the John Lewis Partnership in 1982 as a graduate trainee. He held numerous posts before becoming Managing Director of Waitrose in April 2007. As the Managing Director of Waitrose he has responsibility for 5 million customers, 241 shops and 43,000 partners. The Waitrose store is now bigger than the John Lewis department store and this is largely due to Mark Price's leadership. The Waitrose ethos is about working as a team and is not about individuals. "The reason why Waitrose excels is to do with the values of partnership – we treat our customers, our suppliers, our fellow partners, the communities which we serve well" (Mark Price). He also holds a number of non-executive roles including the Chair of Business in the Community, the Chair of the Prince's Countryside Fund and is a non-executive Director of Channel 4.

"Mark is passionate about agriculture and firmly committed to the future of UK farming.  This is reflected in the Waitrose way of working. This commitment led to the initial collaboration between IBERS/Aberystwyth University and Waitrose to develop the Centre of Excellence for UK Farming which incorporates the Waitrose Chair in Sustainable Agriculture. This was first awarded to Professor Gareth Edwards-Jones who is, sadly, no longer with us. I am pleased to announce that Professor Nigel Scollan has now been appointed to this prestigious chair with continued support from Waitrose.

"With the universal challenge of climate change the Centre of Excellence for UK Farming will support professional best practice in farming and further catalyse investment from business and government.  It will provide clear and authoritative, independent advice to government and policy makers.  It will provide access to a world leading network of partners in research and policy both at UK and worldwide levels and help seize opportunities to influence the future of UK farming.
"This is an exciting partnership, a novel way of doing business linking our University to a successful and forward thinking retailer. Mark Price has shown great vision, boldness and commitment to our University and it is a very great pleasure to present Mark Price as a Fellow of Aberystwyth University."
Eight new Fellows are being honoured by Aberystwyth University at this year's ceremonies which take place between Tuesday 10 and Friday 13 July.
The title of Fellow is awarded to honour distinguished people who have a close association with Aberystwyth University or who have made an outstanding contribution to professional or public life in Wales.
The 2012 Fellows are the actor Michael Sheen, TV presenter Alex Jones, Professor Michael Clarke, Director of the Royal United Services Institute, Mark Price, Managing Director of Waitrose, Dr Jan Jaroslav Pinkava, Oscar winner, Rev. John Gwilym Jones, Former Archdruid of Wales, Caitlin Moran, Broadcaster, TV critic and columnist, and Judge Sir David Lloyd Jones.

AU23512