New Waitrose Chair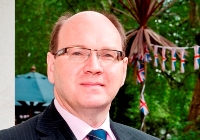 Professor Nigel Scollan
The appointment of a new Waitrose Chair at Aberystwyth University will give the supermarket, and associated companies, world-class support with research into improving the sustainability of the UK's food production systems.
The senior appointment reflects Waitrose's commitment to finding long-term solutions to food security and other issues affecting agriculture in the UK.
The role will facilitate innovative approaches, with scientists, farmers, food industry and policy-makers working in partnership to improve the efficiency, sustainability and resilience of the UK food supply chain.
The supermarket is funding the Waitrose Chair of Food and Farming at Aberystwyth University's Institute of Biological, Environmental and Rural Sciences (IBERS). Professor Nigel Scollan has been confirmed in the role with immediate effect.
The UK agricultural industry is undergoing a period of substantial change as it addresses how to feed a growing population and decrease its carbon footprint. In addition, animal and plant diseases are ongoing threats that farmers and growers will have to contend with in the future, coupled with food security issues and strains on productivity.
Heather Jenkins, Director of Agricultural Strategy at Waitrose comments, "This new role will lead vital research exploring how UK agriculture can be a solution to these major issues."
Professor Wayne Powell, Director of IBERS said "The appointment of Nigel Scollan to the Waitrose Chair of Food and Farming will focus on forging links between agriculture, science and one of the most forward thinking great retailers. I am delighted with Nigel's appointment and look forward to this role building on our existing work with Waitrose and their suppliers through the Waitrose Farming Partnership."
Professor Nigel D. Scollan
Nigel Scollan currently heads up the research group on animals systems and is also responsible for agri-food knowledge exchange activities at IBERS, Aberystwyth University. He conducted his PhD at The University of Edinburgh, followed by a two-year post-doctoral period at the University of Guelph, Ontario, Canada before joining Institute of Grassland and Environmental Research, Aberystwyth in 1993 and subsequently Aberystwyth University in 2008.
His research is primarily related to supporting the development of more sustainable and environmentally-friendly animal production systems, exploring how increased levels of food security and production efficiencies may be achieved.
Professor Scollan comments "this is a very exciting and challenging position and I look forward to working closely with Waitrose and partners to help support the delivery of great quality food to consumers".
Nigel is a Past President of the British Society of Animal Science and a Fellow of the Royal Agricultural Society in the UK.
Waitrose
Waitrose, Britain's favourite supermarket*, has 280 shops in the UK and Channel Islands is consistently achieving sales growth significantly ahead of the market**. Its strong performance has been driven by the success of the essential Waitrose range, Brand Price Match, an unmatchable top tier of products and free delivery for online shopping, as well as a long term commitment to sourcing the UK's finest local and regional foods. Waitrose own-label ranges now account for 54% of sales. Waitrose combines the convenience of a supermarket with the expertise and service of a specialist shop - dedicated to offering quality food that has been responsibly sourced combined with high standards of customer service. Waitrose recently launched the Waitrose Farming Partnership, the "vehicle" through which all its farming activity is coordinated. http://www.waitrose.com/www.waitrose.com
* Which? Annual Supermarket Satisfaction Survey, Favourite Food & Grocery Retailer at Verdict's annual Consumer Satisfaction Awards; Favourite Supermarket at Good Housekeeping Awards
** Kantar Worldpanel
IBERS
IBERS is an internationally recognised centre of excellence for the study of biological, environmental and rural sciences.
It is a unique institution within Higher Education the UK which draws on academic expertise to undertake groundbreaking research to improve agricultural practices and to inform policy. The extensive range of work undertaken covers teaching, research, enterprise and knowledge transfer which enables IBERS to play a valuable role in the global drive to tackle some of the world's most urgent challenges.
IBERS was established in April 2008 following the merger of the Institute of Grassland and Environmental Research (IGER),formerly part of the Biotechnology and Biological Sciences Research Council(BBSRC), with Aberystwyth University. IBERS receives strategic funding for research from the BBSRC, and benefits from financial support from the Welsh Government, DEFRA and the European Union.
IBERS employs 350 staff, has an annual turnover of £26 million and represents the largest land-based science department in the UK. A major investment of £25 million is nearing completion to help realise this vision.
AU24412