The recession and rural Wales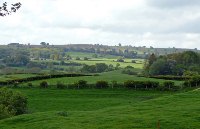 credit Jonathan Billinger
Aberystwyth University's Institute of Welsh Politics (IWP) will hold a roundtable discussion at the Royal Welsh Show titled 'The Recession and Rural Wales' at 2.30pm on Tuesday 24 July.
The panel will include Alun Davies AM, Deputy Minister for Agriculture, Food, Fisheries and European Programmes in the Welsh Government; Emyr Jones, President of the Farmers Union of Wales; Janet Jones, Chair of the Federation of Small Businesses (FSB) and Professor Mike Woods of the Institute of Geography and Earth Sciences at Aberystwyth University.
The four will share their experiences about the difficult situation facing rural Wales during years of recession, and consider how best to move forward. Dr Huw Lewis of the IWP will Chair the meeting.
According to Dr Anwen Elias, Director of IWP, "This is the first time we've organised an event such as this on the showground, but we feel that it's vital that we, as a research centre studying Welsh Politics, provide an opportunity to discuss the economic conditions that currently affect so many Welsh people at this time.
"The Show offers the perfect opportunity to consider the impact of the recession on rural businesses and communities in Wales. The panel members all have experience of studying or working in this field and the discussion will be a way of sharing ideas on how rural Wales can be supported and sustained in a difficult economic climate."
The event will be held at the Aberystwyth University building on the Showground at 2.30pm on Tuesday 24 July. Everyone is welcome to join in the discussion and light refreshments will be served afterwards.

AU24812