A gay-friendly university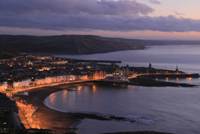 Aberystwyth from Consti
Aberystwyth University has been rated amongst the top 5 most gay-friendly universities in the UK by Stonewall.

Gay By Degree 2013, is an on-line facility which gives lesbian, gay and bisexual prospective students a single place to find out what each university offers to support them before they apply for places in 2013.

For the second year running, Aberystwyth has scored full marks.

Gay By Degree (www.gaybydegree.org.uk) uses ten criteria to identify how well universities support gay people, including whether they have a policy to tackle homophobic bullying, whether there are societies and events for lesbian, gay and bisexual students, and whether they support gay staff effectively. Aberystwyth and Cardiff were joined by other institutions including University College London, Portsmouth, Glasgow and Salford universities.

Rebecca Davies, Pro-Vice Chancellor of Aberystwyth University and Chair of Equal Opportunities and Diversity Committee has welcomed the findings.
"This is an excellent result and follows our participation in Aberystwyth's first Pride on the Prom event last month run in partnership with AberLGBT, Aberystwyth Town Council and other voluntary, SME and public sector organisations.
We are proud to have such a strong sense of community around equality and diversity issues, and a culture where respect and understanding are fostered and the value of the diversity of our community is celebrated."

Stonewall Cymru Director Andrew White said: "For the third year running, Stonewall's Gay By Degree is the only place where gay prospective students can find everything they need to know about their options in one place online, wherever they are.  We are pleased that two Welsh universities have scored full marks and continue to provide a wide range of support for their lesbian, gay and bisexual students"

People who register to use the site, which is free to access, can build up shortlists of universities so they can compare their options. Current students can also register to share information about their experiences.

AU22612