Clearing advice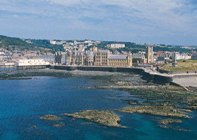 Aberystwyth
As thousands of students across the UK receive their A Level results, Aberystwyth University is offering advice on how to negotiate the Clearing process.

Last year over 50,000 university places were secured through Clearing. Changes to the admissions process and the introduction of £9,000 tuition fees are likely to mean an even busier time this year. 

But how does one find the best university through UCAS Clearing?

Aberystwyth University could have the answer. 

The University has some useful guidelines for those confronting a change in plan as a result of their A Level results this week. 
Pro Vice-Chancellor, Professor Martin Jones commented: "The key to Clearing success is to be organised, obtain as much information as possible as quickly as possible, and to ask for help. Keep a clear head and use some of the many sources now available to assist at this stressful time.
"We particularly recommend the UCAS Clearing website at http://www.aber.ac.uk/en/ucasclearing/clearing2012/ and the Aberystwyth 'Don't Panic step by step video guide to Clearing' at http://jump.aber.ac.uk/?cffn."

Aberystwyth University is happy to receive calls from anyone seeking advice and particularly those seeking a place at University to study one of our popular and high quality courses.

Professor Jones continues: "The University has places available on all our courses for well qualified and motivated students." 

To help students ensure a smooth transition to University, Aberystwyth University has a special Clearing Helpline available on 01970 62 20 00. Lines will be open between:

• 8.30am - 7.00pm, Thursday, 16th & Friday 17th August
• 10am - 4pm, Saturday 18th & Sunday 19th August
• 9am-7pm, Monday, 20th until Friday 24th August.

Enquiries can also be made by e-mail to: clearing@aber.ac.uk.

Aberystwyth has won numerous accolades and awards over the past few years including The Best University Town in Wales and the Most Liked University on Facebook.

It is in the top ten for Student Satisfaction in the UK according to the latest edition of the National Student Survey, and provides students with high quality teaching and learning in departments ranked amongst the top 10 in the UK for their academic standards according to the 2012 i-Graduate Study.

Professor Jones adds: "The advice to prospective students is that there are places available. Don't be daunted, but don't delay – it might seem like a marathon, but it's actually a sprint which can lead to successfully securing a place at university."

AU24112