Bar Kicks Back 2012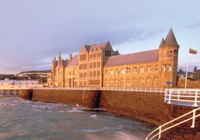 The Old College, Aberystwyth
Today, Friday 17th August, sees the welcome return of the annual Aberystwyth University alumni reunion, the Bar Kicks Back, which takes place this weekend.
Bar Kicks Back 2012 promises to be a bigger and better bash than ever before, incorporating for the first time the Old Students' Association annual reunion.
The weekend kicks off at the Bar outside Alexandra Hall on the Prom on Friday evening, followed by a Welcome Reception in Old College and the OSA's annual dinner in the Quad.
Saturday's events include a tour of the campus, a demonstration of Aber's research into artificial intelligence featuring the iCub robot, a lecture given by the Artistic Director of the Gregynog Festival and the opportunity to view some of the rare books collection housed at the University's Hugh Owen Library.
Guests enjoy free access to the University Sports Centre throughout the weekend and can pop in for a reinvigorating swim and sauna.
The day ends in style with the traditional Bar Kicks Back barbecue and twmpath giving alumni the chance to show off their dancing skills and raise the adrenalin levels!
The weekend will also provide the opportunity for the University to celebrate the generosity of its supporters with a reception in the stunning new IBERS building on Penglais Campus.
Those who graduated over 50 years ago are also invited to a celebratory lunch in the award-winning Medrus conference centre as guests of the University.
Sunday sees a guided walk at Ynyslas on the Dyfi Estuary with Drs John and Sue Fish to explore the local marine environment, and a screening of Ratatouille at the Arts Centre Cinema, which won an Oscar for Aber alumnus and recently-appointed Fellow of the University, Dr Jan Pinkava.
Julian Smyth, Director of Alumni Relations said: "The Bar Kicks Back weekend is going from strength to strength and we are really pleased with the variety of events offered during the weekend. Staff at the alumni office are looking forward to welcoming everyone back to Aber."

For more information about the Bar Kicks Back see www.aber.ac.uk/bkb.
AU26112