Hairspray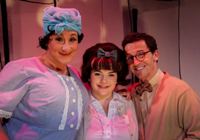 Andrew Agnew, Jenny O' Leary, and Morgan Crawley as the family Turnblad
It's 1962 and chubby Baltimore teenager Tracy Turnblad, aspires to appear on the Corny Collins dance show. Her father, Wilbur, an eccentric store owner, urges her to follow the dream, whilst her overweight mother, Edna tells her that girls like Tracy don't become famous.
However, the determined and optimistic Tracy impresses the host and earns a coveted spot on the programme despite attracting the derision of the show's malicious producer, Velma von Tussle. She also attracts the attention of show hearthrob Link Larkin who is being pursued by Velma's vain and pushy daughter Amber.
So what? I hear you say another wannabee teenager with stars in her eyes but Tracy has something else in mind - racial integration. It's a time of racial unrest in the USA and segregation pervades every facet of society but Tracy is determined to break down the barriers and ... win her man.
This performance lifted the spirit from the upbeat opening number "Good Morning Baltimore" to the resounding finale of "You Can't Stop the Beat". Jenny O' Leary played the effervescent Tracy brilliantly, setting the standard from the start. She may be small but Samantha Giffard (Penny Pingleton) has a big voice and can belt out a song with gusto. Andrew Agnew and Morgan Crawley as Edna and Wilbur played the wacky parents, delivering a script crackling with smart jokes and scathing humour.
Oliver Ormoson takes cheese to a new level as the hearthrob Link Larkin who comes good in the end and Lori Haley Fox and Beth Angharad (Velma and Amber) relished playing the spoilt villains and sang some of the best bitchy lyrics ever put to music. Arun Blair Mangat's (Seaweed) rich soul voice captivated the audience in the second half along with the singing of the Dynamites.
The evening's showstopper was Marion Campbell's (Motormouth Maybelle) sublime performance of the gospel inflected "I Know Where I've Been". This was performed before a backdrop of black and white photographs of the civil rights movement in America and sent shivers down the spine.
The quality of the choreography and ensemble pieces was on a par with those of the West End, and the set design and music first rate. Dazzling dance routines were set off beautifully by the colourful vintage costumes and hats off to the cast for maintaining such a high standard throughout this non-stop high energy performance. At the end of the performance I along with the rest of the audience were on our feet cheering and dancing, wanting more and I can honestly say that it's one of the best musical performances I've ever seen.
This year the Arts Centre's summer musical production has deservedly won a gold medal for excellence and for putting a smile on people's faces. Go there before the show ends on the 1st of September.

AU28512