Language genome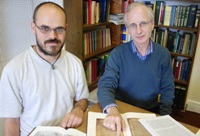 Dr Simon Rodway and Professor Patrick Sims-Williams from the Welsh Department.
'Datblygiad yr Iaith' ('Development of the Welsh Language') aims to create a complete history of the Welsh language by bringing the relevant scholars together and co-ordinating applications for funds for digitization projects.
Searchable texts of all pre-1300 prose manuscripts have been placed on-line by the Department of Welsh at Aberystwyth and this work has been continued as far as 1425 by the School of Welsh at Cardiff University.
In all, more than 3 million words of text can now be searched electronically.
The project is directed by Patrick Sims-Williams, Professor of Celtic Studies in the Department of Welsh, Aberystwyth University. He is also currently working on an Arts & Humanities Research Council project on ancient Celtic names in eastern Europe.
Professor Sims-Williams said: 'The Academy's "kitemark" has been of great help to us in securing funding. The Modern Humanities Research Association has just made us a grant of £18,000 to appoint a researcher to make a start on the late fifteenth century. This follows a successful 20 months during which a grant of £78,000 from the Leverhulme Trust enabled the Department of Welsh to make a detailed study of thirteenth-century Welsh.
"It has been fascinating to see how much variation was tolerated in the written language. For the first time we can give definite answers to questions like "when do you first see 'amdan' written instead of 'am'?". (Answer: about 1350). Eventually we will have the compete genome of the Welsh language."
Professor Sims-Williams is a Fellow of the British Academy and was elected to its Council in July 2012.
The Academy projects scheme 'offers the kitemarking of academic excellence to major infrastructural projects or research facilities, intended to produce fundamental works of scholarship'.
The latest funding from the British Academy is for 5 years.

AU29712