Creative unit winner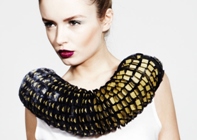 An example of work by Rose Wood
Emerging designer Rose Wood has been selected as the University's 2012 "Year in a Creative Unit" winner.

Chosen by a Dragon's Den style panel, Rose will be using the award-winning Creative Unit, adjacent to the Arts Centre, as a base to develop her business - designing and making high quality, luxurious yet innovative jewellery.

Rose commented: "I'm excited about locating my expanding business at the University's Arts Centre. This is a great opportunity for networking with other creative talent and in an environment which will enable my business to blossom."

Rose's work is concerned with movement and touch and has a simple yet bold aesthetic. The pieces range from simple everyday jewellery to larger statement pieces, using leather, silver, textiles and paper. Another facet to her design work is large-scale wearable kinetic textile pieces for exhibition, performance and commission.
 
The competition, which was open to individuals or new businesses working in any field of the creative industries, offered a year's rent-free studio space at the Aberystwyth Arts Centre Creative Unit. Whilst at the Creative Unit, Rose will be supported by the University's Enterprise Manager, Tony Orme.

Tony adds: "Year on year, we have seen such a great response to this initiative. It isn't just the winner who can expect to benefit form this experience. The University, and the Arts Centre in particular, benefits from having fresh creative talent under its roof. The previous winners have all opted to extend their stay in their units beyond the end of the 'prize period', which is a great testament to the success of the project and we now eagerly await Rose's arrival."

A jewellery design graduate from Middlesex University, Rose developed her skills during her time working with the successful Irish designer Paul Seville in London. Her designs are experimental pieces inspired by pop up books and Japanese fashion. Her organdie pieces unfold from geometric shapes, expanding into wearable items.
AU39612