Sunshine vitamin study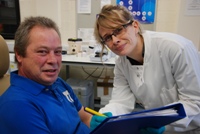 Ffion Curtis with one the study's subjects Ronnie Maher
Vitamin D, also known as the 'sunshine vitamin', could be crucial this winter when it comes to coping with medical conditions such as type 2 diabetes.

There is evidence to suggest that there is a link between low levels of vitamin D and type 2 diabetes, which affects more than 160,000 people in Wales.

Type 2 diabetes is a long-term condition that occurs when the body doesn't produce enough insulin to function properly, or when the body becomes resistant to the actions of insulin, resulting in abnormal levels of sugar in the blood.

Vitamin D regulates the functions of over 200 genes and is essential for growth and development. It maintains the body's calcium balance, boosts a person's immune system and decreases the risk of high blood pressure.

Ffion Curtis, a researcher at the Department of Sport and Exercise Science at Aberystwyth University, is studying blood vitamin D levels and blood sugar control amongst local people.

Ffion explains, "During the summer most of us will get enough vitamin D from the sun, however during the winter it is advisable to find alternative sources of vitamin D as well as spend time outdoors because regular exercise is also important."

"The number of people who suffer from type 2 diabetes is increasing dramatically world-wide. At the same time, people's lifestyles are changing. They are spending less time outdoors being physically active and as a consequence, see less sunlight which is essential to all of us," said Ffion.

"The aim of our study is to establish whether there is a relationship between vitamin D and blood sugar management in people with, and without diabetes. If this proves to be the case it may then be possible to provide dietary advice for people who have type 2 diabetes so they may manage their condition with less dependence on medication.

"These small lifestyle changes could improve the quality of life for many people, and possibly reduce the number of people who go on to develop the condition", she added.

The importance of vitamin D in health was originally identified following the use of cod-liver oil as a treatment of early outbreaks of rickets. Vitamin D is now recognised to have many important roles in maintaining good health and low levels have been linked to numerous other medical conditions such as multiple sclerosis, cancer and osteoporosis.

It has been suggested that as many as 50% of the global population are at risk of vitamin D deficiency. Valuable food sources of vitamin D include fish, milk, orange Juice, egg yolks, cereals and cod liver oil.  

Christmas is a time to enjoy, be merry....and healthy! Here are some festive tips for staying healthy this Christmas:

•    Enjoy your Christmas dinner, but try to stick to your usual diet as much as possible over the Christmas period. After your Christmas dinner, go for a walk because this will help control blood glucose and use up extra calories.

•    Staying active during the cold winter months will keep you warm, increase insulin sensitivity and is good for the mind.

•    Exercise helps muscles to effectively take up glucose from the blood, which is why it's so valuable in controlling diabetes. The effect lasts for only 24 to 72 hours, so it's important to stick to a regular exercise program to ensure that muscles continuously draw sugar from the bloodstream.

•    Have healthy snacks readily available to snack on so you don't keep reaching for chocolates and mince pies! The occasional high fat/sugar food can be included as part of a healthy varied diet for people with or without diabetes alike.

•    Whether you have diabetes or not, try and avoid too many high peaks in blood glucose values (sugar). Because it's Christmas, our diet will change and this will cause many people to experience some higher than usual blood glucose values.

•    If you end up with lots of boxes of biscuits or chocolates, why not donate them to local care home or the next school fete?

•    Choose grilled, roasted or baked meat or fish instead of fried.

•    Avoid added butter or dressing on fruit and salad.

•    Have cream served separately with puddings so that you can take less.

•    Avoid skipping meals as you will be ravenous at the next meal time and will be more likely to over indulge.

•    Have a happy Christmas!

The study is funded by the Knowledge Economy Skills Scholarships (KESS) scheme supported by the European Social Fund through the Welsh Government's Convergence programme and the team are working closely with Dr Sam Rice, Diabetes Consultant at the Hywel Dda Health Board.
AU43612