Welsh medium boost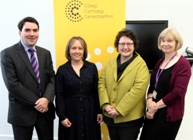 Dr Ioan Matthews, Dr Anwen Jones, Elin Jones AM and Professor April McMahon, Vice-Chancellor.
Aberystwyth University has secured a further four fully-funded Welsh medium academic posts set up by the Coleg Cymraeg Cenedlaethol to provide new opportunities for students to study through the medium of Welsh.
The four new posts in Information Studies, Professional Welsh, Software Engineering and Law are in addition to the ten lectureships that have already been awarded to the University since 2011.The new post holders will be responsible for teaching and developing Welsh medium provision within their respective subject areas.
Launch of a New Teaching Space
The announcement was made on Friday 8 March, in the company of Elin Jones, AM and Dr Ioan Matthews, Chief Executive of Coleg Cymraeg Cenedlaethol. during the launch of the University's new teaching space which has been funded by the Coleg Cymraeg Cenedlaethol.
The multi-purpose teaching room in the new IBERS building on the Penglais campus will be a useful resource for students and enable them to take part in seminars and lectures in different institutions, thanks to the latest e-teaching technologies
Dr Anwen Jones, Chair of the Aberystwyth branch of the Coleg said: "We continue to play a key role in supporting staff and students' study through the Welsh language and look forward to welcoming four new members of staff to our Welsh academic community in September 2013. The new teaching space will be a significant boost to the Welsh provision at Aberystwyth University and a worthwhile investment for the future."
Aberystwyth University is part of a national network of universities developing Welsh medium provision with support from the Coleg Cymraeg Cenedlaethol funding schemes. The Academic Staffing Scheme provides funding to higher education institutions in Wales to employ academic staff and to foster world-class lecturers who are known for innovation and excellence in teaching and research.
Coleg Cymraeg Cenedlaethol is providing £1M annually for a period of five years in the first place to support Welsh medium academic posts. It is anticipated that this scheme will provide over 100 Welsh medium academic posts by the 2015-16 academic year.

AU9813