Democracy and human rights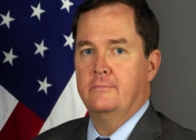 Thomas O. Melia
Aberystwyth University's Department of International Politics will host a public lecture by Thomas O. Melia, Deputy Assistant Secretary of State in the United States Department of State, on Tuesday 19 March.
This year's David Davies Memorial Institute (DDMI) annual lecture is entitled 'Is it realistic to think we can advance democracy and human rights?' and will be held in the Main Hall of the International Politics Building on Penglais Campus at 6pm.
Dr Grant Dawson, Deputy Director of the DDMI, explains, "We look forward to welcoming Thomas Melia. His lecture promises to be a major statement about US foreign policy by a senior diplomat in the Obama Administration. I'm sure he will raise a few questions."
Thomas O. Melia is Deputy Assistant Secretary of State in the Bureau of Democracy, Human Rights and Labor (DRL). He is responsible for the DRL's work in Europe, including Russia, and in the Middle East and North Africa.
He has headed the U.S. Delegation to meetings of the Organisation for Security and Cooperation in Europe (OSCE), and co-chaired meetings of US/Georgia and US/Ukraine working groups.
Thomas Melia joined the State Department in 2010 from Freedom House where he was Deputy Executive Director. Previously, he held senior posts at the National Democratic Institute and the Free Trade Union Institute at the AFL-CIO. Prior to that, he worked on Capitol Hill, working for Senator Daniel Patrick Moynihan.
Mr. Melia has taught democracy and human rights courses at Georgetown University and the Johns Hopkins University's School of Advanced International Studies. He has published a number of widely read articles on democracy and human rights issues and is co-editor of Today's America: How Free? (2008).
Department of International Politics
The Department of International Politics is the oldest of its kind in the world. It was founded in 1919 in the immediate aftermath of World War I in an attempt to help humanity better understand the reasons for war, conflict and suffering. The Department continues to be centrally concerned with the major questions in global politics: power, conflict, ethics, security and political participation. Widely recognized as the home of the discipline, the Department has evolved into the best centre for the study of international politics in the United Kingdom and its staff are committed to excellence in teaching and research to offer an outstanding and dynamic learning environment.

AU10213