Wales Festival of Architecture
03 May 2013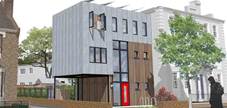 As the first-ever Wales Festival of Architecture draws to a close, Professor of Public Engagement with the Public Imagination at Aberystwyth University, Richard Marggraf Turley will chair a discussion to reflect on the Festival theme of 'the power and pleasures of well-considered buildings and places' tonight, 3 May 2013 at Aberystwyth Arts Centre .
He will be joined by his colleague, Professor Damian Walford Davies, Head of Department, Department of English and Creative Writing, Aberystwyth University, Nick Capaldi, Chief Executive, Arts Council of Wales and Cindy Harris, environmental author .
Professor Richard Marggraf Turley said: "What makes for great architecture? What are the barriers to getting the buildings we deserve? These and other questions that affect us all will be up for discussion at this evening's panel debate and Q&A. Everyone's welcome."
Instigated by the Royal Society of Architects in Wales (RSAW), the six week Festival has included an architectural film series and an array of exhibitions which are on show until 4 May at the Aberystwyth Arts Centre.
For more information visit aber.ac.uk/artscentre

Friday 3 May
Aberystwyth Arts Centre theatre
Free admission
Followed by a drinks reception in the theatre foyer at 7.30pm
Friday 3 May and Saturday 4 May
Exhibitions - free admission
Aberystwyth Arts Centre
Bathing Beauties 100 models by artists and architects re-imagining the British beach hut.
Heatherwick Studio designs for a new building for Aberystwyth University
Vernacular architecture of Ceredigion photographs by Dafydd Jones-Davies. Derelict, converted and occupied utilitarian structures using characteristic materials form an intriguing dynamic with the landscape of the county.
Visions of place: the story of designed settlements drawings from the Royal Commission on the Ancient and Historical Monuments of Wales.
Back to the top