Honorary Fellows 2013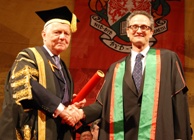 University President, Sir Emyr Jones Parry, presents a Fellowship to Oscar winner and Aberystwyth alumnus, Dr Jan Pinkava, during Graduation 2012.
Ten new Fellows will be honoured by Aberystwyth University at the 2013 Graduation Ceremonies which take place at the University's Arts Centre on Tuesday 9 until Friday 12 July.
The title of Fellow is awarded to honour distinguished people who have a close association with Aberystwyth University or who have made an outstanding contribution to professional or public life in Wales.
Speaking ahead of graduation week, Professor April McMahon, Vice-Chancellor of Aberystwyth said: "We were delighted this year to receive so many high-quality nominations for Fellowships of Aberystwyth University, and it is a pleasure and a privilege to be able to recognise the contributions of these exceptional individuals. Graduation Week is a time of celebration, and we look forward to sharing the ceremonies with our new Fellows."
The 2013 Aberystwyth University Honorary Fellows are (in order of presentation):
His Honour Judge Niclas Parry
Niclas Parry is a Circuit Judge on the Welsh Circuit and judges Criminal Law cases at the Crown Court. Inspired by his late mother's experiences as a Justice of the Peace, Niclas was keen to follow a career in the Law and graduated from Aberystwyth where he was also a head warden for Pantycelyn Hall. On completion of his studies, he followed a career as a lawyer, specialising in criminal and family law. Niclas is also a well-known sports presenter and commentator on radio. Recently honoured as a member of the National Eisteddfod's Gorsedd of the Bards he is known as Niclas y Llais (Niclas the voice)!
His Honour Judge Niclas Parry will be presented by Dr Glenys Williams from the Department of Law and Criminology on Tuesday 9 July.
Sharon Maguire
An alumna of the University, Sharon Maguire studied for a degree in English and Drama before undertaking a PGCE at Aberystwyth. She worked in publishing for a few years before following a postgraduate course in Journalism and entering the world of media. Sharon has directed numerous television shows and productions including The Late Show, Bookmark, Omnibus, MediaShow and numerous commercials before directing the blockbuster film, Bridget Jones' Diary. In 2007, she wrote and directed the film Incendiary and now works as a screenwriter and director in TV and film.
Sharon Maguire will be presented by Dr Tiffany Atkinson from the Department of English and Creative writing on Tuesday 9 July. Due to prior professional commitments, her Fellowship will be conferred on a future visit to the University.
Neil Brand
A writer, composer, and a regular to BBC radio and television, alumnus Neil Brand is above all 'the Doyen of silent film accompanists' (Torin Douglas, Radio 4). Neil has presented the Radio 2 arts programme, is a regular contributor on Radio 4's The Film Programme, is a director of the British Silent Film Festival, a visiting professor at the Royal College of Music, and is considered one of the finest exponents of improvised silent film accompaniment in the world. He has been accompanying silent films for nearly 30 years, regularly in London at the Barbican and National Film Theatre, throughout the UK, and at film festivals globally.
Neil Brand will be presented by Professor Robert Meyrick, Head of the School of Art on Wednesday 10 July.
Betsan Powys
Betsan is a German and Drama graduate of the University, who went on to complete an MLitt at Jesus College, Oxford. Recently appointed as Editor of Programmes for Radio Cymru, Betsan has a wealth of broadcasting and presenting experience. She joined the BBC in 1989 as a News Trainee and has since carved out a successful career as a bilingual bi-media presenter and political blogger. A familiar face on the BBC and S4C, Betsan has presented a number of political news programmes including Panorama, Week In Week Out and Byd ar Bedwar.
Betsan Powys will be presented by Alwena Hughes-Moakes, Policy and Executive Officer on Wednesday 10 July.
Professor Douglas Kell
Previously a member of staff at Aberystwyth University, Professor Douglas Kell has been the Chief Executive of the Biotechnology and Biological Sciences Research Council (BBSRC) since 2008 and will step down from the post in October 2013. An acclaimed academic, Douglas began his career at the University College of Wales, Aberystwyth in 1983 where he was promoted to a Personal Chair. From 1997-2002 he was Director of Research of the Institute of Biological Sciences, Aberystwyth. His scientific achievements include the development and exploitation of many novel analytical methods. Aber Instruments, a company he co-founded, received the Queen's Award for Export Achievement. He has been a pioneer in a variety of areas of computational biology and experimental metabolomics. Douglas also contributed to the discovery of the first bacterial cytokine which is presently on trial as part of a vaccine against tuberculosis.
Professor Douglas Kell will be presented by Professor Wayne Powell, Director of the Institute of Biological, Environmental and Rural Sciences on Wednesday 10 July. Due to prior professional commitments, his Fellowship will be conferred on a future visit to the University.
Dr Elaine Storkey
Philosophy alumna Dr Elaine Storkey is a well-known academic and broadcaster, and has been named as one of the 100 women public intellectuals by The Guardian. Following her studies at Aberystwyth, Elaine pursued postgraduate studies in Canada before a distinguished academic career in Philosophy and Theology. She also holds a Doctorate of Divinity in Sociology and Theology from Lambeth and an honorary Doctorate from Cheltenham and Gloucester College. Since 2008 she has been a member of the High Table at Newnham College, Cambridge. Tearfund's President since 1997, Elaine is also Director of Education for the Church of England Church Army. The author of eight books, she is also a regular writer for journals and newspapers and a frequent contributor to Radio 4's Thought for the Day.
Dr Elaine Storkey will be presented by Professor Andrew Henley, Director of the Institute of Management, Law and Information Science on Thursday 11 July.
Dr Emyr Roberts
Anglesey born and bred, Emyr obtained his first degree at Reading University before completing his PhD at Aberystwyth University. His career began with the National Farmers' Union, before he joined the Welsh Office in 1991. Following posts in health and culture, Emyr was promoted to the Senior Civil Service and became Chief Executive of the Welsh European Funding Office in 1997. From 2005 until 2012, Emyr held various posts within Welsh Assembly Government and latterly the Welsh Government, including Director, Department for Social Justice and Regeneration; Director of the Department for Social Justice and Local Government; Director General, Public Services and Local Government Delivery; and Director General, Department for Education and Skills. Since November 2012, he holds the post of the first Chief Executive of Natural Resources Wales.
Dr Emyr Roberts will be presented by Professor Neil Glasser, Director of the Institute of Geography, History and Politics on Thursday 11 July.
Ian Jones
An Economics alumnus of the University, Ian Jones was instrumental in the launch of S4C in 1982. After a period working at ITV and as an independent producer, he re-joined S4C as Director of Business, S4C International and Co-productions in 1992. Since then he has worked in senior positions for Scottish Television, United News and Media, (ITEL), Granada International (now ITV Global) and served an unprecedented two years as Chair of the British Television Distribution Industry Association (BTDA). He was President of National Geographic Television International, before becoming Group Managing Director of Target Entertainment. His most recent post was Managing Director, Content Distribution and Commercial Development, International for A+E Television Networks in New York. His current role sees him return to S4C as Chief Executive 30 years after helping to launch the Channel.
Ian Jones will be presented by Dr Elin Haf Gruffydd Jones from the Department of Theatre, Film and Television Studies on Friday 12 July.
Richard Lynch
Since graduating from Aberystwyth University in 1986, Richard has worked extensively in theatre and television, becoming one of Wales' most respected actors. A principal actor for leading theatre companies including The Royal Shakespeare Company, Y Cwmni, The Royal Court, Almeida Theatre and Brith Gof, he is particularly proud of his close association with National Theatre Wales for whom he recently played the title role in their production of Coriolanus. He has continued his close relationship with Lurking Truth/Y Gwir sy'n Llechu which he co- founded with David Ian Rabey as an undergraduate, directing Howard Barker's 'I Saw Myself' at Chapter in Cardiff last year.
Richard Lynch will be presented by Professor David Ian Rabey from the Department of Theatre, Film and Television Studies on Friday 12 July.
Gwyneth Lewis
Gwyneth was Wales's first National Poet from 2005-06. She has published eight books of poetry in Welsh and English. Parables & Faxes (1995) won the Aldeburgh First Collection Prize, Y Llofrudd Iaith, the Welsh Arts Council Book of the Year 2000 and Sparrow Tree the Roland Mathias Poetry Award 2012. Gwyneth was awarded a Society of Authors Cholmondeley Award for a distinguished body of work. Sunbathing in the Rain: A Cheerful Book on Depression and Two in a Boat are memoirs and in 2012 won the National Eisteddfod's Crown. In the same Eisteddfod, her translation of Shakespeare's Tempest into Welsh was performed by the Theatr Genedlaethol. Gwyneth also composed the words on the front of the Wales Millennium Centre in Cardiff.
Gwyneth Lewis will be presented by Professor Aled Jones, Senior Pro Vice-Chancellor, on Friday 12 July. Due to prior professional commitments, her Fellowship will be conferred on a future visit to the University.
AU23613