Société de Linguistique Romane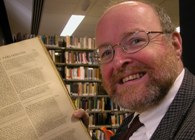 Professor David Trotter
Professor David Trotter, Head of the Department of European Languages at Aberystwyth University, has been elected President of the Société de Linguistique Romane for 2013-16.
Founded in 1924, the Société de Linguistique Romane (SLiR) is the most important and most prestigious international learned society concerned with the linguistics and philology of the Romance languages and has a global membership.
Professor Trotter, as the 25th president, is only the second British academic to be so honoured - Professor John Orr was President in 1965/66.
He was elected last week during the SLiR conference which was held this year in the French city of Nancy.
Professor Trotter has just served for three years as the Société's Vice-President following his election to the post during the previous conference which was held in Valencia in 2010.
The SLiR publishes one of the leading journals in the field, the Revue de Linguistique Romane, on whose editorial committee Professor Trotter has served for a number of years. It organises triennial congresses: that in 2004 took place in Aberystwyth (the only occasion to date on which the congress has been in the British Isles).
Speaking of his election, Professor Trotter said: "It is a great honour to have been elected President of the Société de Linguistique Romane. As an international scientific society concerned with the history, development, and linguistics of the Romance languages, the SLiR publishes and accepts conference papers in any of the Romance languages, including so-called "minority" languages, since from the point of view of the Romance "family" all Romance languages are of equal importance.
"It proceeds on the assumption that Romance-language scholars can either speak/understand all the necessary languages or that they can deploy "receptive multilingualism", i.e. that speakers of Romance languages can understand other Romance languages even if they are not necessarily able to speak them.
"A typical day at a SLiR congress would involve listening to academic papers delivered in five or six Romance languages, and speaking three or four of them. Languages other than Romance languages are excluded, so English (unusually nowadays) is not accepted," he added.

AU26913