Working to prevent stress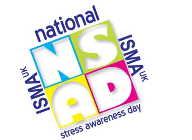 National Stress Awareness Day logo.
It's National Stress Awareness Day tomorrow (Wednesday 6 November), and Aberystwyth University will be holding a 'well-being' trail on Penglais Campus which will include activities such as a massage session, stress releasing exercises and a drop-in health check for its staff and students.
The trail encompasses a host of venues on Campus including the Student Wellness Centre, Hugh Owen Library, Student Support Services, Sport Centre, TaMed Da, Carwyn James Building, the Arts Centre and the Student Union.
Each venue will offer something different such as a 15-minute head and shoulder massage in the Sports Centre, a drop-in health screening session at the Hugh Owen Library and a special menu at TaMed Da to showcase foods that help relieve stress.
A 20-minute lunch time walk will also be held at 12.15 and start from the Arts Centre. For a full list of events, click on http://www.aber.ac.uk/en/supporting-staff/work/healthanddisability/stress-awareness/
Professor Kate Bullen, Director of the Institute of Human Sciences at Aberystwyth University, explains; "One in four people suffer from mental health problems in the UK - more people than we think. However, very often, people will not acknowledge and discuss their concerns because of the stigma still attached to mental health issues.
"In order to boost the health and wellbeing of our staff and students, we recently appointed a Health Champion as part of the Graduate Trainee programme to help promote and develop health and well-being initiatives throughout the University."
Michele Presecane was appointed as Health Champion in September of this year. Originally from Italy, Michele received a first class degree in Sport and Exercise Science from Aberystwyth in 2012 and in 2013, he completed a MSc in Exercise and Health Research also at Aberystwyth.
He explains, "This is an excellent opportunity for me and I look forward to working with all departments at the University over the next year to improve and enhance health initiatives.
"Too much stress can contribute to a range of health problems including headaches, stomach upsets, sleeping problems, concentration issues, high blood pressure and even stroke or heart disease and therefore its vital that we get more people keeping fit and healthy."
During the day, representatives from the University's Careers Advisory Service and Human Resources will be on hand to provide advice and support to students.
"The idea with this day is to get people thinking about their overall well-being and to possibly discuss any issues or concerns they might have in a friendly environment and with people who will understand their situation," Professor Bullen adds.
"The aim is to reach out to our staff and students and inform them of what support and advice is available at the University and within the wider community."
AU40113