In search of student entrepreneurs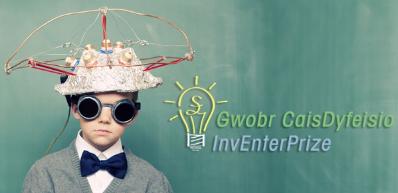 For the second year running, Aberystwyth University will be holding the student business competition InvEnterPrize, which has a prize value of £20,000 and is open to all students attending the University.
The competition will be formally launched today (13 November) and will include a presentation by two successful local businesswomen, Layla Bennett from Hawksdrift Falconrywww.hawksdrift.co.ukand Sarah ReastofMachinations www.machinationswales.co.uk
Entries will be encouraged from individuals or teams with inventions, business start-up ideas and other ambitious plans. The competition, which is funded by the University's alumni, is open to any student studying at Aberystwyth during 2013/14.
Jake Stainer, a student studying Marketing and Spanish at Aberystwyth, won the 2013 InvEnterPrize for his online language-learning website Papora www.papora.com.
The 2013/14 winning entry will receive a generous prize package including support and investment worth up to £20,000 to start the business. In addition, all shortlisted finalists will receive expert advice from a panel of successful entrepreneurial alumni.
The judging panel comprises seven prominent Aberystwyth alumni, drawing on their experience in a range of industry sectors. Joining the panel for the first time this year is David Sargen, Managing Partner of Derivatives Risk Solutions LLP based in London. For a full list of the panel members, go to www.aber.ac.uk/inventerprize.
Tony Orme, Enterprise Manager at Aberystwyth University's Department of Research, Business & Innovation said; "If you have an idea for a new product or service which you could turn into a successful venture, this is a fantastic opportunity to turn that idea into a reality.
"Not only will the winner receive financial help, but the backing and support of seven great business men and women who will be able to provide invaluable guidance and advice, which is so crucial for a young entrepreneur and for a start-up business."
The launch takes place in the Main Hall at the International Politics Building at Penglais Campus on Wednesday 13 November from 5.15pm.
As part of the InvEnterPrize competition, Aberystwyth University will be hosting a range of workshops and inspirational presentations over the coming months, open to students interested in developing their entrepreneurial skills and preparing their entry.
To keep up to date with news relating to the competition, visit www.aber.ac.uk/inventerprize
Working in partnership with the Development and Alumni Relations Office, InvEnterPrize is organised by the Department of Research, Business & Innovation with support from alumni donations through the Annual Fund 2013/4 (see http://jump.aber.ac.uk/?rgnk for more information).
AU41113