IBERS extends oat breeding alliance with Senova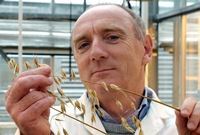 Dr Athole Marshall, IBERS
Aberystwyth University's IBERS (Institute of Biological, Environmental and Rural Sciences) is extending its alliance with Senova, the private Cambridge based seed marketing company, for a further 15 years.
IBERS bred oat varieties have been marketed through a strategic alliance with Senova since 1989 and this successful partnership has resulted in many new oat varieties being introduced to the UK and European market.
Formed as a subsidiary of Arthur Guinness in 1981 Senova is now a private independent seeds company which represents an increasing number of European plant breeders. With an extensive trials network the company evaluates material and commercialises that which shows potential.
Senova is a dominant player in oats and triticale and enjoys a UK market share of over 205 in winter wheat with its lead variety JB Diego being Britain's most popular wheat over the last two years.
Professor Wayne Powell Director of IBERS said;
"We are delighted to be extending our association with Senova. In line with the UK Agri-Tech Strategy this is a great example of how UK science and business can work together combining complementary strengths to play a vital role in addressing long term global food challenges.
"We look forward to a successful long term partnership in further developing the oat breeding programme here and the opportunity it provides us to apply our expertise and to exploit the underpinning genetics and genomics technologies we use here at IBERS."
This closely follows the announcement of a new Aberystwyth Innovation and Diffusion Campus at Gogerddan, where new infrastructure and facilities will be developed to attract companies and researchers interested in creating commercially viable new products, based on modern approaches to plant breeding.
Dr Athole Marshall, Head of Public Good Plant Breeding at IBERS said;
"The public good plant breeding team at IBERS has many years' experience of breeding winter and spring oats for human consumption and as a high value animal feed. We look forward to continue breeding oat varieties for the UK but also the opportunities this association gives us in developing innovative oat varieties for other countries.
We endeavour to develop new oat varieties that help to make farmers worldwide more profitable, and that are of benefit to the environment."
There is increasing awareness of the value of oats both for human consumption and as a high value animal feed and the latest new varieties build on decades of success at IBERS and provide farmers, millers and feed compounders with oats that are more productive, resilient and easier to grow.
Chris Green, Director of Senova said;
"This is a very exciting time in plant breeding. The extension of the Senova alliance with IBERS is of particular strategic relevance not only as agriculture looks for more sustainable production but the British government under the new Agri- Tech initiative, seeks to improve the quality and functionality of UK produce.
In this respect oats will have a lead role in improving the diet, nutrition and well-being of both people and animals. The genetic knowledge gain over the last few years has been fantastic and we are excited at the prospects of driving forward the value and uptake of oats both in the UK and encouragingly in other territories where we have varieties under evaluation.
The IBERS oat programme is globally very significant and this public private alliance will ensure that the contribution of both parties in respect oat innovation is further enhanced.
Oat varieties developed at IBERS now account for 68% of the UK's £2 million-a-year market in oat seed. Consumption of oat is increasing and is expected to be sustained as through product innovation more people turn to oats as part of a healthier more nutritious diet. The UK market for hot oat cereals alone is worth over £160 million.
Oats contain a specific type of fibre known as beta glucan which helps prevent heart disease by lowering cholesterol levels. Studies also show that beta glucan helps those suffering with diabetes as they experience lower rises in blood sugar levels.
IBERS has been breeding a variety of oats with higher beta glucan content in order to enhance their health benefits.
AU45513