Celebrating 2013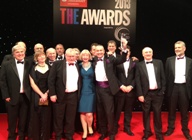 Members of the IBERS team celebrate at the 2013 Times Higher Education Awards
January
The darkening of Arctic glaciers
Aberystwyth researchers measure the "microbial budget" of a glacier surface for the first time, discovering how bacteria may help melt glaciers.
February
People not polar bears prompt greener lifestyles
Study suggests that people who cut their carbon footprint are motivated by helping those affected by climate change more than by 'saving the planet'.
March
Graphene breakthrough
Institute of Mathematics and Physics researchers develop a new method for making graphene, the thinnest material ever created.
April
Human trafficking
New study by law professor Ryszard Piotrowicz provides basis for major initiative to protect rights of human trafficking victims.
May
Care-leaver support recognised
The University receives a glowing report from Buttle UK, the largest UK charity providing support for "children and young people living in poverty to give them a fighting chance".
June
First community day a resounding success
More than 400 visitors attended the University's first community open day, Access All Areas, which was held on Saturday 22 June.
July
Honorary Fellows 2013
Ten new Fellows were honoured at Graduation.
July
£35 million innovation campus
The University announces plans for an investment of £35m in the development of a new UK Innovation and Research Campus at Gogerddan, known as the Aberystwyth Innovation and Diffusion Campus.
August
New £45m student residences
New Penglais Farm student residences due to open in September 2014 as developer Balfour Beatty secures full backing from investors for the project.
September
Pathways to information leadership
Aberystwyth teams up with leading global publisher of international library and information management research Emerald Group, and ASLIB to provide accreditation in information leadership.
October
£14.2m for arts and humanities
The South, West and Wales Consortium, in which Aberystwyth University is partnered with seven other universities – Bath, Bath Spa, Bristol, Cardiff, Exeter, Reading and Southampton - awarded £14.2 million funding from the Arts and Humanities Research Council (AHRC) over the next five years to deliver postgraduate supervision, training and skills development from 2014.
November
University winsTimes Higher Education Awards
IBERS wins award for Outstanding Contribution to Innovation and Technology at the Times Higher Education Awards.
December
The School of Management and Business awarded £2.1 million
Professor Peter Midmore is leading a £2.1 million project to investigate how scientific research on agriculture affects the economy, society and the environment in Europe.