Severe Weather and Flooding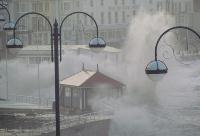 Aberystwyth prom
Due to the severe weather experienced during Friday evening and the possible further threat of tidal flooding, Aberystwyth University has taken the decision to postpone University examinations by one week.
Students were evacuated from University residences and private accommodation in vulnerable areas of the town on Friday evening, 3 January.
Rebecca Davies, Pro Vice-Chancellor for Student and Staff Services, explains: "Our teams of staff have been supporting students who have returned to Aberystwyth and who live in one of our seafront residences. During the evacuation of the halls of residences around 120 students were relocated to the University's main campus where they were supplied with food and hot drinks.
"Even though the pictures are dramatic, and the sea has washed away sections of the promenade, our buildings are secure and safe and students have returned to their residences.
"We are very grateful for all the support of students, staff, Ceredigion Council and emergency services as our contingency plans went so well. We are also grateful to the local community, and to rail and bus operators, for their support in relocating our community of students, and for the supportive messages on social media."
The University is advising that students postpone their return to the town until the middle of next week, once the forecasted adverse weather has passed.
Frequent email updates are being sent to students and a revised exam timetable will be issued early next week. Students requiring urgent support are encouraged to call the University's 24 hour helpline on 01970 622900 or make their way to the main reception on the University's Penglais Campus.