Tackling crime in rural communities
20 January 2014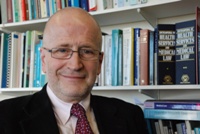 Professor John Williams
Aberystwyth University's Department of Law and Criminology is set to work with Dyfed-Powys Police to develop a new Centre for Rural Policing and Justice.
Dyfed-Powys Police are to launch a new centre of excellence looking at ways of tackling crime in rural communities.
The force's commissioner has been given £44,000 by the UK College of Policing to kick-start the new Centre.
The project will work with universities and other partners to look at the particular needs of the rural villages and towns, and how they can be policed.
Initially the force will work with researchers from Aberystwyth University and University of Wales Trinity Saint David, as well as the Cardiff-based Universities' Police Science Institute (UPSI) on developing new ways of understanding and tackling rural crime.
Professor John Williams, Head of the Department of Law and Criminology at Aberystwyth University explains, "The Department of Law and Criminology welcome this exciting initiative which complements the work done within the Department. Rural policing is a neglected area of research.
"Very often assumptions are made about crime in rural areas, not least that crime does not happen in peaceful rural Wales. Rural areas are not all idyllic and crime does take place in rural communities. It is not limited to what might be termed 'rural crime' such as farm crime. Crimes against property, crimes of violence, child abuse, domestic violence and hate crimes all take place in rural communities.
"Dyfed Powys Police has experienced high profile terrorist and drug related crimes. Its coastline is attractive to the criminal and terrorist minds. Rural policing presents many challenges to police forces. It is not just a matter of the large geographical area that has to be physically policed - it is also engages culture, language and economics.
"Urban policing models do not necessarily fit neatly into rural areas, although most models of policing are based on urban areas. An evidence base is needed to ensure that rurality is factored into policing models.
"The Centre will have an important role to play in providing such evidence and the Department looks forward to working with it in raising the profile of rural policing."
Dyfed-Powys covers the largest force area of any constabulary in England and Wales, and the force has said tackling crime in rural communities is the biggest challenge it faces.
The new centre will cost around £49,000 to set up, with the remaining £5,000 coming from the force commissioner Christopher Salmon.
AU2314
Back to the top
Contacts
Professor John Williams
Department of Law and Criminology
jow@aber.ac.uk / 01970 622735