The Sundance Kid
24 January 2014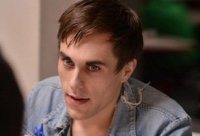 Mathew David
A former Aberystwyth University student has picked up a prize this week at the Sundance Film Festival in Utah for his role in the film 'Burger'.
Cardiff actor, Mathew David, along with the cast and Norwegian director, Magnus Mork, won a direction and ensemble acting prize at the festival.
The 11 minute short-film, funded by Iris Film Prize, observes the individuals that inhabit a late night burger bar and was shot on location in Cardiff.
Mathew, who graduated in Drama from Aberystwyth in 2009, explains: "Winning the award was so unexpected and the director and I are so grateful to be here. The film was picked out of 8600 to be in the final 66 shorts shown at the festival which was an achievement in itself.
"During my time at Aber, I took a great deal of inspiration from one of the tutors, Joan Mills, whose direction was fantastic. I loved the energy of Aberystwyth and the people were so friendly and from there, I went on to train at the Royal Welsh College of Music and Drama."
"The plan for the future is to take each audition and opportunity with both hands and hope to work on great projects like this one."
The Sundance festival was set up 30 years ago by movie star Robert Redford.
AU2914
Back to the top
Contacts
Esther Eckley
Communications and Public Affairs
01970 621571 / ese6@aber.ac.uk