'The Science of Religion and the Religion of Science'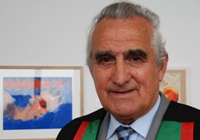 Reverend John Gwilym Jones
This evening, Thursday 1 May, John Gwilym Jones will deliver a lecture on 'The Science of Religion and the Religion of Science' at Aberystwyth University which he will explore the relationship and potential conflict between religion and science.
The lecture will be held in the A14 lecture hall in the Hugh Owen Building at 6pm.
There is a general perception that religion and science are in conflict. This lecture will attempt to explore the background to this view as held by both religious and scientific fundamentalists, and to explore possible inter-relations which could be mutually beneficial.
John Gwilym Jones is one of three talented brothers who were brought up on a farm near Newcastle Emlyn in west Wales; all three are Master Poets, having been awarded the coveted accolades of being crowned or chaired at the National Eisteddfod of Wales.
The second of the three sons, John Gwilym was awarded a first class honours degree in Welsh from Aberystwyth. After a year lecturing in Middle Welsh at Dublin University he went on to study Theology in Swansea.
The ministry became the focus for the budding academic and he was called to serve in Bethania, Y Tymbl, before moving to the Eglwys Annibynnol (Independent church), Pendref, Bangor where he served for forty years.
He is a devout Christian, a committed pacifist and ecumenical by instinct.
The University's Vice-Chancellor, Professor April McMahon, said; "John Gwilym Jones is a patriotic Welshman, whose interests range from football to composing poetry, from poetry competitions to the Eisteddfod. And the greatest of these, without doubt is the Eisteddfod.
"He won the Chair at the Montgomery National Eisteddfod in 1981, served as Archdruid between 1993 and 1996, and was honoured as Fellow of Aberystwyth University in 2012.
"In his role as Archdruid in 1995 he had the honour of crowning his younger brother, Aled Gwyn and chairing his son, Tudur Dylan Jones."
"It is a great pleasure to welcome him back to Aberystwyth University to deliver the Walter Idris Jones Lecture."
The lecture will be delivered in Welsh with simultaneous translation in English.
AU17314