Rewilding Britain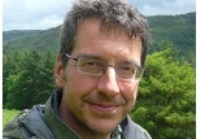 George Monbiot
Environmental campaigner and journalist George Monbiot is visiting Aberystwyth University this week to give a public talk on 'Rewilding Britain'. The talk will clarify the ideas behind rewilding and dispel some of the myths and misunderstandings that have been circulating since the publication of his book Feral.
Rewilding is a term used for restoring natural habitats and native wildlife to areas of land that are ecologically degraded. Many people view this approach to be necessary in the face of massive loss of biodiversity and mounting environmental problems.
Monbiot's ideas have drawn criticism from farming unions, but in a recent BBC Countryfile programme he said: "I think when people see what some of the benefits are, particularly the economic benefits, the possibilities from wildlife tourism, the money that can be made through carbon storage and flood management, people could be doing an awful lot better by rewilding the land than by keeping sheep there."
The free public event, on Friday 9th May, at 7pm on Aberystwyth University's Llanbadarn Fawr Campus, is part of an ongoing lecture series hosted by the Climate Change Consortium of Wales. It is presented in collaboration with Wales Wild Land Foundation, of which Monbiot is Patron, as part of the launch of their Cambrian Wildwood project, which aims to restore the wildwood and other natural habitats and bring back wildlife to a part of the Cambrian Mountains.
The event will be broadcast via the Climate Change Consortium of Wales' web site at www.c3wales.org, where details of future talks, and previous recordings can be found.
AU18314