New Director of Health, Safety and Environment appointed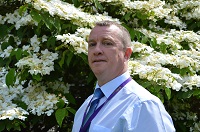 Phil Maddison
Aberystwyth University has appointed a new Director of Health, Safety and Environment, Phil Maddison.
Previously the interim Health, Safety and Environment Manager, Phil has over 15 years' experience in complex and varied Health, Safety and Environment leadership roles on government contracts, and across both the public and private sectors. Phil took up the Directorship on 12 May.
Phil's many qualifications include Chartered Membership of the Institute of Occupational Safety and Health; registration as a Registered Safety Practitioner, in addition to being a member of the International Institute of Risk and Safety Management, and the Chartered Management Institute.
Prior to joining the University, Phil worked in heavy regulated industries including government and public sectors in the Middle East and across the UK
Commenting on his appointment, Rebecca Davies, Pro Vice-Chancellor for Student and Staff Services commented: "I am very pleased to welcome Phil to the University. The health, safety and wellbeing of our students, staff and visitors to our University is of paramount importance. I look forward to working with Phil to further develop our health and wellbeing agenda at Aberystwyth and to continue to provide a safe and healthy University."
Phil Maddison commented: "I am delighted to be appointed to this crucial role within the University and to work with colleagues to ensure that our University, as a complex and varied institution, is healthy and safe."
AU21914