Urdd Eisteddfod takes centre stage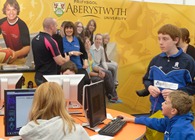 Aberystwyth University is one of the main sponsors of the Urdd National Eisteddfod once again this year which will be held on Rhiwlas Farm, Bala, from Monday 26 - Saturday 31 May 2014.
For the last 17 years, the University has been the official provider of public access to the web, a service that enables those visiting the Eisteddfod to get the latest information and send and receive e-mails free of charge.
The Urdd Eisteddfod attracts over 100,000 visitors, 15,000 competitors and almost a million television viewers every year.
As well as the Web Café, Aberystwyth University will also be sponsoring the Urdd's sports events during the week-long festival.
The University's support towards the Sports Department of Urdd Gobaith Cymru goes beyond the festival. For many years, the University has been working closely with the department to work on their programme of training courses.
The Urdd Eisteddfod, one of the largest cultural youth festivals in Europe, is as an annual Welsh language festival of literature, music and performing arts organised by Urdd Gobaith Cymru - Wales' leading youth organisation.
More information on Aberystwyth's activities during the Urdd Eisteddfod are listed here: https://www.aber.ac.uk/en/schools-liaison/events/urdd/
AU22714