Staff dismissal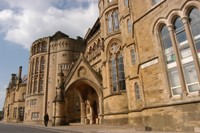 The Old College
Aberystwyth University regrets to confirm that today Professor Cox has been dismissed from his post in the Department of Law and Criminology. Mindful of the public interest and comment this may cause, the University has decided after careful reflection to make a short, factual, statement in this respect.
Following a thorough investigation of a number of serious allegations, in line with the University's procedure, an independent disciplinary panel (chaired by an external solicitor) met to consider a variety of allegations against Professor Cox. The panel found that Professor Cox had committed serious breaches of Financial Regulations and Procedures, data protection requirements, the University's duty of care towards a member of staff, and it was not satisfied with Professor Cox's explanations.
Given the evidence presented, the seriousness of these findings, and all the circumstances of the case, the University has accepted the panel's clear recommendation to terminate Professor Cox's employment with the University.
The University recognises that Professor Cox now has the right of appeal to a further independent panel, in line with the process clearly defined by the University's policy. Consequently, the University will not be commenting further on this case at this time.
AU22914