Old College welcomes AberOpera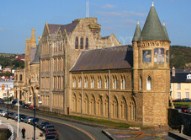 The Old College
Aberystwyth University's Old College will stage AberOpera's Concert of operatic favourites on Friday 6 June which is in support of Wales Air Ambulance, the University Vice Chancellor's Charity of the Year.
The concert, which starts at 7.30pm in the Old Examination Hall, will feature well known songs, arias, duets and choruses from many of the best-loved operas.
Aberystwyth University's Director of Development and Alumni Relations, Louise Jagger, said, "We are delighted that AberOpera are holding such a prestigious fundraising event in the Old College.
"The aim is to attract and welcome the community into this much loved building as well as raise funds for a special cause.
"I hope that those attending will also find our exhibition on our future plans for the Old College of interest and we look forward to receiving their feedback and ideas."
Joanne Julier of Cerdd Ystwyth, who sings with AberOpera, explains, "We hope to give individuals a memorable evening of familiar favourites plus some delightful rarer pieces by some of the greatest operatic composers."
AberOpera members have sung with professional opera companies such as Welsh National Opera and Mid Wales Opera as well as the BBC National Chorus of Wales and the City of Birmingham Symphony Chorus. Many also have extensive solo and choral experience with a very wide range of other companies and societies.
Any students or local people who are interested in singing, or in supporting popular opera are very welcome to contact Joanne at Cerdd Ystwyth, telephone 01970 820157 or email gwdihwcwrt@gmail.com
The University's Council approved a feasibility study carried out on the Old College in July 2013 and an Old College Project Group has been tasked with taking the project to the next phase. This work includes considering possible sources of funding and addressing planning issues.
AU21614