Wedding March composer's restored letters on show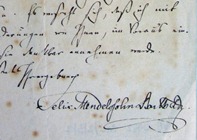 Mendelssohn letter and signature
Letters written by Felix Mendelssohn (1809-1847), best known for his Wedding March score and still the most frequently used music to wedding ceremonies today, were recently conserved and are now accessible to future generations for study and research at Aberystwyth University.
The documents, bequeathed to the University over a century ago through the generosity of Sir Hugh Owen and George Powell (of Nanteos 1842-1882), include 17 letters and also two supposed autograph overture scores by the German Romantic composer, pianist and conductor.
Mendelssohn made his first public debut at the age of nine in Hamburg, Germany, and from the age of 11, he composed a huge quantity of piano and chamber music, choral works, as well as five symphonies.
He composed music for William Shakespeare's play, A Midsummer Night's Dream, and another well-known piece is the Hebrides Overture.
Bill Hines, Information Services Departmental Fellow, explains, "The letters are in French and German and are addressed to a number of different correspondents. They date from 1832–1847 and were in urgent need of conservation because they had become extremely fragile over the years with paper tears and ink degradation.
"Following the conservation work by Kate Newton, the Accredited Paper Conservator with Monmouthshire Museums Conservation Service at Monmouthshire County Council, the letters have been scanned and are now safeguarded for use by future researchers.
"For those who have an interest in seeing the letters and scores, a small public display has been mounted at the Hugh Owen Library
based on Penglais Campus, which will be on show until the end of September.
"Mendelssohn is among the most popular composers of the Romantic era."
The restoration has been made possible thanks to a generous grant from the National Manuscripts Conservation Trust and the Welsh Government.
AU31714