International Office Director appointed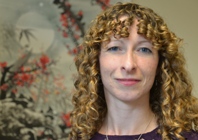 Ruth Owen Lewis, Director of the International Office, Aberystwyth University
Ruth Owen Lewis has been appointed as the new Director of the International Office at Aberystwyth University.
Originally from Aberaeron, Ruth has been a member of staff at the University since 2001.
She has held several posts in the International Office including International Officer covering South Asia, Malaysia, Thailand, Nigeria, Norway and Turkey, International Partnerships Manager, Deputy Director and for the past year, Acting Director.
Prior to this she worked as a Project Manager in the University's Careers Service.
Ruth said; "International students have always been an integral part of University life here in Aberystwyth and today they account for around 10% of our student population.
"My main responsibility is to strategically increase international student numbers through various recruitment activities and collaborative arrangements. I have overall responsibility for the activities of the office and provide leadership to the team and to staff throughout the University on international issues."
Professor John Grattan,Pro Vice-Chancellor for Student Experience and International, said; "Attracting students as well as staff from across the globe to enrich the cultural and intellectual life of Aberystwyth is a priority of ours as well as building on Aber's international reputation.
"We are a global institution with staff and students from over 90 countries. There is still a great deal of potential for growth and over the next few years we'll be working hard to make Aberystwyth a destination of choice for staff and students worldwide."
Ruth graduated from Warwickshire Agricultural College with a degree in Equine Studies and Business Management and holds a postgraduate certificate in Management and Marketing from Aberystwyth University.
AU42214