New role for Peter Curran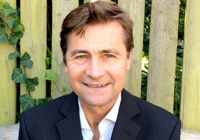 Peter Curran, Director of Finance
Peter Curran, Director of Finance at Aberystwyth University has been appointed as the new Finance Director for Sport Wales.
Based in Cardiff, Sport Wales is the national organisation responsible for developing and promoting sport and physical activity in Wales. Sport Wales is the main adviser on sporting matters to the Welsh Government and is responsible for distributing National Lottery funds to both elite and grassroots sport in Wales.
Peter, an alumnus of the University, returned to Aberystwyth University in February 2013 to take up the role of Director of Finance, having previously held the post of Vice-Principal at the Royal Welsh college of Music and Drama.
Speaking of his appointment, Professor April McMahon, Vice-Chancellor of Aberystwyth University said: "We congratulate Peter on his new appointment to this exciting role, and thank him for his considerable contribution at Aberystwyth.
"Peter has, during the past two years, introduced a number of strategic policies and systems to the Finance Department, which ensure that the University is now better able to meet the challenges it faces within a competitive Higher Education sector. The Executive wishes Peter, as a colleague and an alumnus of the University, every success as he returns to Cardiff."
Peter Curran said: "I am delighted to be taking up this new role with Sport Wales, which combines my professional aspirations with my keen interest in sport; and I look forward to contributing positively to developing the sports agenda in Wales.
"I would like to thank my colleagues at the University for the warm welcome as a returning alumnus, and for giving me the opportunity to develop the Finance function within the Institution. Aberystwyth University has always meant a great deal to me, and I look forward to returning to witness its exciting developments. I wish the University and its staff every success in the future."
Peter will be starting in his new role at Sport Wales in early 2015. The University has initiated a recruitment process to appoint a successor to Peter.