Australian award for Psychology textbook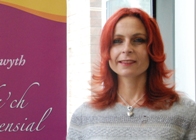 Dr Verena Pritchard
A Psychology textbook adapted for use in Australasia by Aberystwyth University Psychology lecturer Dr Verena Pritchard has won an award at the Australian Publishing Association Educational Awards.
Life Span Development won the award for the 'Best Tertiary Teaching and Learning Resource'.
Originally written for an American audience by John W Santrock, it was adapted by Dr Pritchard along with 11 other scholars' to make it relevant to students in Australia and New Zealand.
Dr Pritchard, who lectures in Developmental and Lifespan Psychology, adapted three chapters ('Socio-emotional development in infancy, early childhood, and middle and late childhood') of the textbook for Australasian audiences.
The Australian Publishing Association Educational Awards celebrate excellence in educational publishing to recognise and reward the work of educational publishers in all sectors including Primary, Secondary, Technical and Further Education, and Vocational, and Tertiary education.
Dr Pritchard said; "As a contributing author, I feel privileged to have worked on the Australasian adaptation of this text together with a group of well-respected professionals in their fields and McGraw-Hill publishers, and I am delighted that this book has been acknowledged as a quality tertiary resource."
Originally employed as a lecturer at Canterbury University in Christchurch, New Zealand after graduating with a PhD in 2007, Dr Pritchard first worked as a Postdoctoral Fellow at the Canterbury Medical Research Foundation as the recipient of the Child Health Fellowship on studies tracking the developmental outcomes of children born premature and children who were prenatally exposed to drugs.
Dr Pritchard joined Aberystwyth in 2012 and is working on research that assesses the effects of electronic media and communication on social-emotional and cognitive development.
The Psychology department at Aberystwyth University was established in 2008 and received British Psychology Society accreditation in 2012.
AU44114