Aberystwyth University staff and students thank generous supporters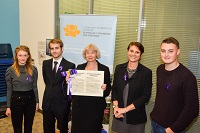 Pictured (left to right) are Poppy Woods, recipient of the Richard and Ann Roberts Scholarship; Lloyd Spence, former Annual Fund caller and member of the University's Development and Alumni Relations Office; Professor April McMahon, Vice-chancellor of Aberystwyth University; Liza Kellett, CEO of the Community Foundation in Wales; and Nathan Baines who has received the Stuart Rendel Scholarship.
Students and staff at Aberystwyth University are wearing purple ribbons this week and next (30 October - 6 November) to mark Philanthropy Week in Wales and to show their appreciation for those who have donated money to the University over the years.
Aberystwyth University is an official partner of Philanthropy Week Wales, an initiative convened by the Community Foundation in Wales to celebrate, promote and explore philanthropy in Wales.
In 1867 the iconic Old College, with the help of Sir Hugh Owen, was bought with money raised by the people of Wales, the local people of Aberystwyth and individuals who felt strongly about establishing a university in mid Wales.
The very land on which Penglais Campus was built, along with around 400 acres of land, was donated by Lord Stuart Rendel, Joseph Davies Bryan and David Alban Davies to the University in the 1880s.
In 1875 chapels throughout Wales declared the last Sunday in October 'Sul y Brifysgol / University Sunday' and devoted to a collection for the College at Aberystwyth. Over 70,000 people contributed mostly small amounts and £3100 was raised.
This September, more than 600 students were awarded with a scholarship, a bursary or an award, all funded through donations and bequests from various individuals and associations.
Aberystwyth University has one of the best range of scholarships, bursaries and awards of any university in the UK according to the Higher Expectations report 2013-14 by YouthSight (OpinionPanel Research).
Dr Rhodri Llwyd Morgan, Pro Vice-Chancellor at Aberystwyth University said; "Unlike many institutions, all our awards are open to students from all parts of the UK. Our academic scholarships combined with our income contingent bursaries, means that around 80% of our students receive a scholarship, bursary or award of some kind, which is a great incentive to study here."
He added, "Since the University was founded in 1872, it has received generous donations and bequests which make it possible to financially assist students who want to study at Aberystwyth and enjoy the benefits of Higher Education."
As well as the above, the Sports Centre, the Assembly Rooms at 10 Laura Place and Blaendolau playing fields, were all donated to the University by the Old Students' Association.
The Davies family of Llandinam were also great benefactors of Aberystwyth University. In 1903, the family funded the building of new chemistry laboratories and in 1919 a donation by David Davies together with his sisters, Gwendoline and Margaret, enabled the University to create of a chair in International Politics, and in so doing, pioneer an entirely new university discipline.
Gwendoline and Margaret Davies were also among the School of Art's benefactors along with George Powell of Nanteos, Sir John Williams, Dr Elvet Lewis, Marian Evans-Quinn as well as friends and former students of the University.
The University has continued to benefit from the continued and generous philanthropy of a wide range of supporters for scholarships and bursaries. In 2009 Aberystwyth University Annual Fund was launched and has raised over £500,000 from its community of alumni.
An evening to explore what philanthropy has to offer to young people in higher education was hosted by Aberystwyth University and facilitated by the Community Foundation in Wales on Thursday 30 October.
Louise Jagger, Director of Development and Alumni Relations at Aberystwyth University said; "We are delighted to be a partner of official partner of Philanthropy Week Wales. In celebrating and honouring the past, the University is laying the foundations for future generations to play their part in supporting young people who aspire to study at Aberystwyth University. In early 2015 the University will be renewing its ambitions and launching its next 5 year fundraising programme and we very much look forward to involving members of the Aberystwyth family, be they alumni, staff or supporters, as we build on the successes of the past."
More information can be found on the University's scholarships, bursaries and awards here.
The winners of the 2014 Entrance Scholarships can be found here.
To find out how you could support Aberystwyth University, go to: http://www.aber.ac.uk/en/development/support/