T Gwynn Jones' work presented to the University
07 January 2015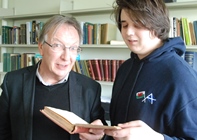 Dr Robin Chapman (left) and Robin Williams, a second year student studying Welsh and Welsh History, reading one of T Gwynn Jones' books
The Welsh Department at Aberystwyth University is living again in the presence of one of its most distinguished members of staff.
Thomas Gwynn Jones (1871- 1949) taught in the department for 34 years between his appointment as a lecturer in 1913 and his retirement in 1937. He was appointed Chair of Literature in 1919.
Now, through the generosity of his grandson, Mr Emrys Wynn Jones, who served as registrar at the former University of Wales Aberystwyth, many of Professor Jones's books, including copies of his own work, have been donated to the Department for the use of staff and students.
Thanking Mr Jones for his gift, Dr Robin Chapman, acting head of the department, said: "Thomas Gwynn Jones was both a distinguished academic and a first-rate writer. The history of twentieth-century Welsh literature in many senses begins with him.
"It is thrilling to hold his personal copies of work that I have read and taught to students throughout my career, many inscribed with his signature. The collection represents a significant part, too, of his working library.
"Over three quarters of a century after his retirement, many of Professor Jones's books have, in a sense, come home."
T. Gwynn Jones was a leading Welsh poet, scholar, literary critic, novelist, translator, and journalist who did important work in Welsh literature, Welsh education, and the study of Welsh folk tales in the first half of the twentieth century.
He was also an accomplished translator into Welsh of works from English, German, Greek, and Irish. He was born in Gwyndy Uchaf, Denbighshire, and was laid to rest in Heol Llanbadarn, Aberystwyth.
AU53014
Back to the top
Contacts
Dr Robin Chapman
Department of Welsh
01970 622239 / ttc@aber.ac.uk
Arthur Dafis
Communications, Marketing and Public Affairs
01970 621763 / 07841 979 452 / aid@aber.ac.uk