Aberystwyth University celebrates British Science Week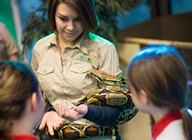 Science is fun: pupils come face to face with a snake during at the 2014 Science Festival
The annual Aberystwyth University Science Fair takes place on 17, 18 and 19 March, and forms  part of British Science Week (13-22 March).
More than 1400 school pupils from 25 schools in Ceredigion, Powys and Gwynedd will enjoy hands-on science exhibitions at the fair which is organised by the University's Centre for Widening Participation and Social Inclusion (CWPSI).
The fair is open to visiting school pupils and the public, and takes place in the Sports Cage on the Penglais campus. This year's theme is 'British Science'.
The exhibition will be open between 9.30am and 3pm each day, with an additional session for members of the public from 4pm until 6pm on Wednesday 18 March.
Attendees will have the chance to take part in demonstrations and activities, including hands-on encounters with animals, understanding volcanoes and earthquakes, meet robots and a host of other exciting student led stands.
There will also be devices to use for the pupils to map their movements around the hall, as well as a small treasure hunt.
Roger Morel, Science Project Officer said: "The Science Fair is about showing the excellent scientific work that is being done at Aberystwyth University and the surrounding area. Its purpose is to widen the knowledge of science among school pupils and the general public, inspire them and show them how important it is in all our lives."
Debra Croft, CWPSI Manager, said: "We could not do this without the enthusiasm, professionalism and knowledge of the Institutes and Departments – both staff and students. The transferrable skills learnt and deployed by our students, with this demanding audience of young people, are breath-taking and innovative."
"I want to extend sincere thanks to the 130+ staff and students who will take part from the departments of Mathematics, Physics, Computer Science, Sports and Exercise Science, Psychology, Geography and Earth Sciences, and Biological, Environmental and Rural Sciences, who give up their time and energy to make this a success, as well as support staff from Estates Department and the Sports Centre. Also, Ceredigion County Council, Dyfi Biosphere Education Group, Cobweb (Citizen Observatory Web), the RSPB and Ecodyfi."
Further information about Aberystwyth University Science Fair is available here and the event poster is available here.
AU9715