Taking nature's best ideas to solve human problems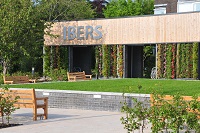 The IBERS living walls on Gogerddan campus
A newly established Plants & Architecture Network has been set up between Aberystwyth, Bangor and Cardiff Universities with funding via Welsh Government's Sêr Cymru National Research Network for Low Carbon, Energy and the Environment (NRN-LCEE).
The Plants & Architecture Network seeks to revisit the relationship between plants and architecture through biomimicry, a science that studies nature's best ideas and then imitates these designs and processes to solve human problems. The core idea is that nature, imaginative by necessity, has already solved many of the problems society is grappling with.
The aim of the Plants & Architecture Network is to understand how buildings and plants interact with each other, and their environment, so that we can develop the cities and crops of tomorrow.
Iain Donnison, Professor of Plant Science at IBERS is leading the project and said
"Architecture has the challenge to provide society with a future built environment that is efficient in its use of resources, effective in providing good conditions in which to live and work, and pleasing to the senses.
Plants offer a number of possibilities to help inform future sustainable building design solutions, whilst architecture offers tools and thinking to help design crops that produce more sustainably.
We therefore believe that through plant scientists and architects working together we can generate the dramatic changes needed to deliver the essential increases in the sustainability of cities and crops for future generations."
In the future smart cities and regions will need, and benefit from, the greater coexistence of plants and buildings. Historically plants have been used as renewable raw materials in buildings, a source of design inspiration, and grown in cities to improve air quality, human health and well-being.
This approach seeks to improve the overall sustainability of buildings and plants as well as making our future buildings and cities smarter and greener:
Applying knowledge of how plants use resources such as light, minimise waste, and are tolerant to stresses to create new design strategies for buildings and cities. Applying knowledge and tools from architecture to better understand the way in which plants capture light and are tolerant to strong winds.
In future cities there is a need to consider not just how plants can grow but also how crop production can occur within them. This is beginning to happen and brings advantages in terms of sustainability through reducing transportation costs, as well as improving the city environment through aesthetic and health benefits.
Modern technologies such as photovoltaics and LED lighting also mean that future buildings will be able to generate and store electricity which can be used to grow plants and crops in areas of poor or no light.
The study the use of plants on buildings, including green roofs and walls, which can reduce the energy demand of buildings and the urban heat island effect where city temperatures particularly in the summer can rise significantly compared to the surrounding countryside.
Within buildings study the benefits of plants in the living space and the use of plants as a source of low carbon materials to store carbon and improve sustainability and indoor air quality. Nature inspired architecture and modern plant breeding both seek to move toward radical increases in efficiency, including use of available energy, water and light, as well as of tolerance to extremes of climate.