Aberystwyth University hosts Autism Conference
02 April 2015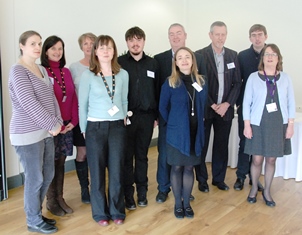 Hosts and speakers from the Voices from the Autism Spectrum one-day conference at Aberystwyth University.
On World Autism Awareness day, Aberystwyth University hosted a one-day Voices from the Autism Spectrum event in partnership with Ceredigion Social Services Autism Team.
The conference provided an opportunity for people on the autism spectrum, partners, parents, relatives, carers, and professionals in health services, social care and education to come together to share their experiences and learning.
John Harrington, Assistant Director of Student Support Services at Aberystwyth University explained; "So many of us are affected by, or work to support people with, autism, and everyone's story is different. It has been a great honour to listen to the speakers share their personal experiences of being autistic, and learn how they have overcome the challenges that autism presents.
"Today is the second annual conference in partnership with Mary Rendell, Autism Spectrum Development Officer and her team from Ceredigion Social Services at Ceredigion Council, and we're very pleased to be able to welcome people back to Medrus again this year."
With over 100 delegates from across Ceredigion, the conference were presented with insights into autism by a range of speakers including Barrie Thompson, a Counsellor and Consultant in autistic spectrum conditions; Alex Lowery, a professional public speaker and trainer on autism; Robert Parton who has High Functioning Autism and has overcome adversity to become a truly amazing public speaker; and John Simpson who has Asperger Syndrome and over the last five years has delivered presentations at over 100 conferences and seminars, to change people's beliefs, expectations and approaches to autism spectrum conditions.
Back to the top
Contacts
Elinor Howells Communications, Marketing and Public Affairs
01970 82551 / elh45@aber.ac.uk