The UK Supreme Court - What does the public see?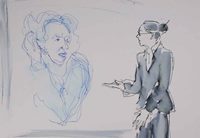 "Twickenham" by Isobel Williams
Artist and blogger Isobel Williams will present a richly illustrated public lecture in the Department of Law and Criminology at Aberystwyth University, on Wednesday 22nd April at 18.15, discussing her experiences of drawing from the public seats in the Supreme Court.
Why does she do it, and how did she get there? Isobel's copiously illustrated talk describes how sketching people under the A40 and at the Occupy protest camps led her to the highest court in the land.
She will include her thoughts and pictures from Nicklinson, the 'right-to-die' case heard at the Supreme Court.
The event will be held in room EM 1.21, Elystan Morgan Building, in Aberystwyth University's Llanbadarn Centre. This event is open to all, with no pre-booking required.
AU11715