Aberystwyth subjects listed amongst world elite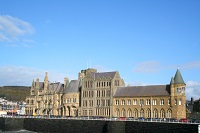 Five academic subjects at Aberystwyth University feature amongst the world's elite according to the latest QS World University Rankings by Subject which are published today, Wednesday 29 April, one more than in 2014.
Environmental Science is a new entry, appearing in the top 300 for the first time.
Geography retains its position in the top 150 worldwide.
Politics (Politics and International Studies from 2015) climbs into the top 150 for the first time.
Agriculture and Forestry retains its position amongst the top 150 worldwide.
English Language and Literature retains its status amongst the 300 worldwide.
Now in its fourth edition, the QS World University Rankings by Subject evaluated 3,467 universities and ranked 971 institutions.
Over 82 million citations attributions were analysed and the provision of 13,132 programs were verified.
Four criteria were applied when compiling the listings:
Academic Reputation is based on a global survey of 63,700 academics worldwide who were asked where they believe the best work is taking place in their own field of expertise.
Employer Reputation is based on global survey of 28,800 graduate employers who are asked which institutions produce the best graduates.
Citations per Faculty and H-Index, which aims to measure the productivity and impact of scholars' works by looking at the most cited papers and the number of citations received in other publications.
Professor John Grattan, Pro Vice-Chancellor for Student Experience and International said: "This is excellent news and reflects the high esteem in which academic work at Aberystwyth University is held by academics around the world. It's also further evidence of the advances made in the quality of work produced at Aberystwyth, and echoes the outcome of the 2014 Research Exercise Framework which showed that 95% of the research activity submitted by Aberystwyth University was of an internationally recognised standard or higher.
"The relatively high percentage of eligible staff (76%) returned for REF2014 places Aberystwyth University firmly within the top 50 in the UK for research impact. This means students who choose to study here are far more likely to be taught by academics involved in internationally recognised research than might be the case in many other universities."
Further information about QS World University Rankings is available online.
AU10415