Significant rise in employability of Aberystwyth University graduates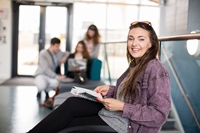 Statistics released today, Thursday 2 July, by the Higher Education Statistics Agency show a significant improvement in the employability performance indicator for Aberystwyth University.
The percentage of Aberystwyth University full-time first degree leavers (i.e. full time undergraduate when they were studying at Aberystwyth), who are in work or further study or both, has risen from 85.5% (12/13 statistics) to 91.4% in the Destinations of Leavers of Higher Education Survey 2013/14.
While this step-change is against a background of rising employability for new graduates UK-wide and in Wales – up 1 percentage point - Aberystwyth University has improved well above the national trend with a 6 percentage point increase.
In addition, the proportion of employed Aberystwyth University graduates gaining graduate-level employment has risen at an even greater rate – 9 percentage points up over the last year.
Professor April McMahon, Vice-Chancellor of Aberystwyth University said: "We are delighted that our employability rating has increased, reflecting both the hard work and enterprise of our graduates, and the commitment of all our staff to the success of our students, both academically and in the workplace.
"We are investing in innovative and strategic student-focused employability initiatives which encompass all our academic Institutes and which I firmly believe are likely to improve our employability ratings still further – these new statistics show that rising employment levels among Aberystwyth University graduates constitute one of the many compelling reasons to choose to study here."
AU21415