New educational apps launched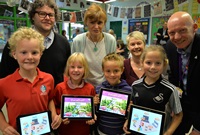 (Left to Right) Ysgol Gymraeg Aberystwyth pupils Ioan Mabbutt, Lleucu Siencyn, Cerian Williams and Modlen Gwynne celebrate the launch of the new apps in the company of Aled Morgan, Ysgol Gymraeg Aberystwyth; Lynwen Rees Jones, Director of CAA; Delyth Ifan, Editor/Projects Manager, CAA; and Dr Rhodri Llwyd Morgan, Pro Vice-Chancellor, Welsh Language and Culture, and External Engagement, Aberystwyth University.
One of Wales' biggest educational resources publishers, CAA (Educational Resource Publisher) at Aberystwyth University, has launched two new Welsh apps for primary schools – Gwastraff and Sgìl-iau.
The apps, which are free to download on Apple and Android devices, were launched at Ysgol Gymraeg Aberystwyth on Wednesday 8th July.
The new apps are based on books already published by CAA, which aim to encourage students to improve their literacy and numeracy skills in a way which is relevant to them.
Gwastraff, by Menna Beaufort Jones, is part of Cyfres y Gwybodyn, a series of factual books for 5-7 year olds, which foster and develop a fondness of reading, improve their speaking and writing skills, and encourage them to seek more information.  The app will provide a new dimension to the series, by allowing students to practice their reading skills and general knowledge in an interactive and enjoyable way.
Sgìl-iau is a book which promotes and reinforces basic Welsh language skills for older Key Stage 2 students.  This new app, by Meinir Ebbsworth, offers games in language and numeracy in four exciting, colourful locations:  Adventure Park, Entertainment Centre, the Welsh Games and the Airport.
Lynwen Rees Jones, director of CAA said: "It's important for children to enjoy the learning process, or they will soon lose interest. These apps give students an opportunity to do what comes naturally to them – playing computer games, while simultaneously improving their language and mathematics skills and learning a new facts as well."
Clive Williams, Head of Ysgol Gymraeg Aberystwyth has welcomed the development: "With the most recent changes to the curiculum following the publication of the Donaldson Report, digital learning is becoming an important tool for all teaching staff to master and to transfer to pupils, so that they can become independent and able learners using the latest technology. These apps are an effective medium and an important addition to the electronic resource that is available through the medium of Welsh and CAA are to be congratulated on their work."
CAA http://www.aber.ac.uk/en/caa/ produces high quality educational material in both Welsh and English – books, CDs, interactive CD-ROMs, multi-media packages and digital activities.  Since its establishment in 1982, approximately 2,000 publications have been released.
AU22015