Eurwen Richards honoured as Fellow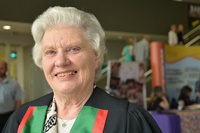 Eurwen Richards, Fellow of Aberystwyth University
Internationally renowned food technologist and dairy expert, Eurwen Richards, has been honoured as Fellow of Aberystwyth University.
Eurwen was both a student and lecturer at Aberystwyth University before becoming a senior food technologist at Marks & Spencer and the Head of the Quality Assurance Department at Dairy Crest.
She is the winner of numerous awards including: British Cheese board (Life-time Achievement); British Cheese Awards (Cheese Person of the Year) and World Cheese Awards (Exceptional Contribution to Cheese).
A former President of the Society of Dairy Technology, Eurwen was the first female Cheese Master in the UK.
In recognition of her achievements, the Royal Welsh Agricultural Society has named an award after her – 'The Eurwen Richards Award for the Best Welsh-produced Cheeses'.
Eurwen Richards was presented as Fellow on Tuesday 14 July by Dr Rhodri Llwyd Morgan, Pro Vice-Chancellor of Aberystwyth University.
Presentation of Eurwen Richards as Fellow by Dr Rhodri Llwyd Morgan:
'Canghellor, Is-Ganghellor, darpar raddedigion, gyfeillion. Pleser o'r mwyaf yw cyflwyno Miss Eurwen Richards yn gymrawd Prifysgol Aberystwyth.
Chancellor, Vice-Chancellor, prospective graduates and supporters. It is an honour and a privilege to present Miss Eurwen Richards as a Fellow of Aberystwyth University.
Magwyd Eurwen ar fferm Llety Brongu, Llangynnwyd, Cwm Llynfi (ger Maesteg). Graddiodd mewn Amaeth ym Mhrifysgol Aberystwyth a dechrau wedyn ar yrfa ddisglair yn y diwydiant llaeth a bwyd.
Raised in the Llynfi Valley on Llety Brongu Farm, Eurwen graduated from Aberystwyth University and forged a notable career in the Dairy and Food Industries. After a spell lecturing in Aberystwyth University Eurwen went on to be a Senior Food Technologist at Marks & Spencer before moving to Dairy Crest Foods as Quality Assurance Manager. Since then she has worked across the world as a freelance Dairy Consultant.
Person diymhongar iawn yw Eurwen sydd wedi cyflawni llawer iawn.
Eurwen is a very modest person that has achieved a great deal. But she told me recently that, despite many and various accolades, what gives her greatest pride is the fact that she has maintained close friendships with many many colleagues at her various places of employment. I'm certain she works hard at it, and I think that says a lot, don't you.
When appointed to her role at Marks & Spencer she was the first Dairy Foods expert employed by the company. The work involved inspecting standards at factories that were suppliers and often setting those standards. Very often the only woman in the company of men and often faced with negative attitudes, she more than held her own and her expertise was, and is, greatly sought after – in today's parlance, she was headhunted from M&S by Dairy Crest to a very senior role.
Ar ddiwedd ei gyrfa mae Eurwen wedi dychwelyd i fro ei mebyd ac wedi cyfrannu llawer at achosion lleol a chenedlaethol yng Nghymru. Un achos pwysig iddi yw mudiad Cytûn – sy'n hybu cydweithio rhwng yr enwadau Cristnogol. Bu'n Llywydd Cytûn ddeng mlynedd yn ôl a diolch i'w dylanwad cadarn ac amyneddgar hi, cafwyd un babell ar y cyd am y tro cyntaf yn enw Cytûn ar faes yr Eisteddfod Genedlaethol – camp ddiplomyddol rwy'n siŵr y bydd ein Canghellor yn gallu ei edmygu.
On returning to South Wales Eurwen has continued to contribute locally and further afield. At a difficult time for the community of Bridgend, when several local young people had tragically taken their own lives, Eurwen was active in efforts among the local chapels to support the young people and volunteered early on as one of the new team of Street Pastors offering a caring and friendly ear to late-night revellers.
Shouldn't be referring to Eurwen in such familiar terms, no. For we are in the presence of royalty, did you know?
She has an international reputation as a cheese judge. She is a regular judge at the World Cheese Awards, the Nantwich International Cheese Show, the British Cheese Awards (where she judges alongside Blur guitarist turned cheesemaker Alex James), the Great Taste Awards, the Bath & West Show and the Royal Welsh Show.
In 2001 Eurwen received the British Cheese Board's Lifetime Achievement Award and in 2007 was awarded the honour of being named British Cheese Person of the year. In 2012 the Royal Welsh Agricultural Society created for Eurwen her own special award at the Royal Welsh, named "The Eurwen Richards Best Welsh Cheese Award", which she judges personally. Last year, the Guilde de Fromagers (yes, even the French) made her a "Companion of Honour". Being awarded Exceptional Contribution to Cheese at the World Cheese Awards in 2013 prompted one journalist to declare that Eurwen had been "crowned Queen of Cheese".
As an alumna of Aberystwyth her contribution has been equally positive, in particular as a member and officer of the Old Students' Association. I hope all of you will keep in touch with us as alumni and support projects and other ways of helping future students.
Eurwen, eich Mawrhydi, mae eich cyfraniadau amrywiol i'w hedmygu'n fawr iawn.
Canghellor, mae'n bleser gen i gyflwyno Miss Eurwen Richards i chi yn Gymrawd.
Chancellor, it is my absolute pleasure to present Miss Eurwen Richards to you as a Fellow of Aberystwyth University.'
Aberystwyth University Honours 2015
Twelve individuals are being honoured by Aberystwyth University during the 2015 graduation ceremonies, which take place at the University's Arts Centre from Tuesday 14 July until Friday 17 July.
Eight Honorary Fellowships will be presented to individuals who have, or have had a connection with Aberystwyth or Wales, and who have made an outstanding contribution to their chosen field.
Two Honorary Doctorate degrees will be presented to individuals who have been outstandingly successful in their field, or who have a long record of renowned research and publication.
Two Honorary Bachelor degrees will be presented to individuals who are members of Aberystwyth University staff without an entry-level degree in recognition of long-service, contribution and dedication to the Institution; and members of the local community who have made a significant contribution to Aberystwyth and the area.
Also being honoured are:
Honorary Fellowships:
• Professor Robin Williams CBE, researcher in semiconductor physics, Fellow of the Royal Society and former Vice-Chancellor of Swansea University.
• Professor Miguel Alario-Franco, researcher in solid state chemistry and former President of the Royal Academy of Sciences of Spain.
• Lord Bourne of Aberystwyth, Parliamentary Under Secretary of State for the Department of Energy and Climate Change, and the Wales Office and an alumnus of Aberystwyth University.
• Debbie Moon, BAFTA award-winning creator and writer of the television series WolfBlood, contributor to the Hinterland television series and an alumnus of Aberystwyth University.
• Dr Francesca Rhydderch, Award-winning novelist, former editor of New Welsh Review and Associate Professor of Creative Writing at Swansea University.
• Dr Lyn Evans, researcher in high energy physics and leader of the team that designed, built and commissioned the Large Hadron Collider.
• Iolo Williams, wildlife television presenter of more than 20 series for the BBC and S4C including Springwatch, Autumnwatch and Winterwatch, and former RSPB Species Officer for Wales.
Honorary Doctorate Degrees:
• Dylan Iorwerth, award-winning poet and author, radio and television presenter, founder and Directing Editor of Golwg Cyf and an alumnus of Aberystwyth University.
• Professor Huw Cathan Davies OBE, Fellow of the Royal Meteorological Society, former National Academy of Science Researcher at NASA Institute in Virginia and an alumnus of Aberystwyth University.
Honorary Bachelor Degrees:
• Bryn Jones, co-ordinator of the Penparcau Community forum and founding member of local arts and healthcare group 'HAUL'.
• Rhian Phillips, former Head teacher of Plascrug Primary School and International Schools Learning ambassador for Wales.
AU19715