International Schools Learning Ambassador for Wales, Rhian Phillips awarded Honorary Bachelor Degree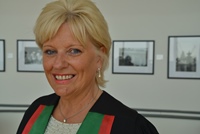 Rhian Phillips
Former Headteacher of Plascrug Primary School, Rhian Phillips, has been presented with an Honorary Bachelor Degree by Aberystwyth University.

Rhian Phillips has a long history and commitment to primary education in the Aberystwyth area and is passionate about providing pupils with an excellent standard of education by providing wide and varied learning opportunities both in and outside of the classroom.
An advocate for a global dimension in education, she was appointed International Schools Learning Ambassador for Wales by the British Council and has travelled extensively across Europe presenting in conferences and seminars to promote Global Citizenship and Learning.
Rhian Phillips was presented with an Honorary Bachelor Degree on Wednesday 15 July by Rebecca Davies, Pro Vice-Chancellor.
Presentation of Rhian Phillips with Honorary Bachelor Degree
Trysorydd, Is-Ganghellor, darpar raddedigion, gyfeillion.
Pleser o'r mwyaf yw cyflwyno Mrs Rhian Phillips am radd Baglor er Anrhydedd yn y Celfyddydau Prifysgol Aberystwyth.
Treasurer, Vice-Chancellor, prospective graduates and supporters.
It is an honour and a privilege to present Mrs Rhian Phillips for an Honorary Bachelor Degree of Arts of Aberystwyth University.
Rhian Phillips personifies the Aberystwyth drive for excellence in education with an International outlook.
Rhian is an alumnus of Gwendraeth Grammar School, and received her formal teaching qualifications at the then Cardiff College of Education.
She is an enthusiastic, committed and hardworking education practitioner with thirty three years teaching experience in the primary sector. . She was the Headteacher of Plascrug Primary School in Aberystwyth from 2008 to 2014 and prior to becoming the Headteacher at Plascrug she served as Deptuy Head teacher, Class teacher at Plascrug School, Class Teacher at Llanafan Village School here in Ceredigion, Class Teacher at Penparcau Junior School, and started her career as Reception class teacher for Ysgol Iolo Morganwg, Cowbridge.
Throughout her career she has strived to achieve excellence and is a firm believer in learning something new every day, and her work to deliver an outstand in experience can be seen through her active roles in the education community both within Wales and Internationally.
She achieved Full Team Inspector status for ESTYN (the Welsh Schools Inspectorate Body) and is an Estyn Stakeholders Forum Member.
One of the aspects of her work which has had the greatest impact within the Aberystwyth community is her focus on International and Multicultural Education in the Primary sector, including her outstanding work as a British Council International Schools Ambassador.
Under her leadership Plascrug came to be seen as a place for other Schools and policy makers to learn from, and case studies from the school are shared across Wales and the world.
Rhian's excellent communication skills means she relates well to persons of all ages, gender, race and creed. She is passionate about delivering high quality learning experiences and Aberystwyth University is proud to recognise her contribution to making our Town known as a place for an exceptional, and international, education.
Trysorydd, mae'n bleser gen i gyflwyno Mrs Rhian Phillips i chi am radd Baglor er Anrhydedd yn y Celfyddydau.
Treasurer, it is my absolute pleasure to present Mrs Rhian Phillips to you for an Honorary Bachelor Degree of Arts.
Aberystwyth University Honours 2015
Twelve individuals are being honoured by Aberystwyth University during the 2015 graduation ceremonies, which take place at the University's Arts Centre from Tuesday 14 July until Friday 17 July.
Eight Honorary Fellowships will be presented to individuals who have, or have had a connection with Aberystwyth or Wales, and who have made an outstanding contribution to their chosen field.
Two Honorary Doctorate degrees will be presented to individuals who have been outstandingly successful in their field, or who have a long record of renowned research and publication.
Two Honorary Bachelor degrees will be presented to individuals who are members of Aberystwyth University staff without an entry-level degree in recognition of long-service, contribution and dedication to the Institution; and members of the local community who have made a significant contribution to Aberystwyth and the area.
Also being honoured are:
Honorary Fellowships:
• Eurwen Richards, former President of the Society of Dairy Technology and first female Cheese Master in the UK.
• Professor Robin Williams CBE, researcher in semiconductor physics, Fellow of the Royal Society and former Vice-Chancellor of Swansea University.
• Professor Miguel Alario-Franco, researcher in solid state chemistry and former President of the Royal Academy of Sciences of Spain.
• Lord Bourne of Aberystwyth, Parliamentary Under Secretary of State for the Department of Energy and Climate Change, and the Wales Office and an alumnus of Aberystwyth University.
• Debbie Moon, BAFTA award-winning creator and writer of the television series WolfBlood, contributor to the Hinterland television series and an alumnus of Aberystwyth University.
• Dr Francesca Rhydderch, Award-winning novelist, former editor of New Welsh Review and Associate Professor of Creative Writing at Swansea University.
• Dr Lyn Evans, researcher in high energy physics and leader of the team that designed, built and commissioned the Large Hadron Collider.
• Iolo Williams, wildlife television presenter of more than 20 series for the BBC and S4C including Springwatch, Autumnwatch and Winterwatch, and former RSPB Species Officer for Wales.
Honorary Doctorate Degrees:
• Dylan Iorwerth, award-winning poet and author, radio and television presenter, founder and Directing Editor of Golwg Cyf and an alumnus of Aberystwyth University.
• Professor Huw Cathan Davies OBE, Fellow of the Royal Meteorological Society, former National Academy of Science Researcher at NASA Institute in Virginia and an alumnus of Aberystwyth University.
Honorary Bachelor Degrees:
• Bryn Jones, co-ordinator of the Penparcau Community forum and founding member of local arts and healthcare group 'HAUL'.
AU19715