BAFTA winning author Debbie Moon honoured as Fellow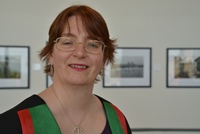 Debbie Moon, Fellow
Award-winning television writer, Debbie Moon, has been honoured as Fellow of Aberystwyth University.
A graduate of Aberystwyth University Drama Department, Debbie Moon is the creator and principal writer of WolfBlood, a BAFTA award-winning children's television series now in its third series.
Debbie has also contributed to the Aberystwyth-based series Hinterland and continues to have strong links with Aberystwyth Arts Centre and the wider University.
Debbie Moon was presented as Fellow on Friday 17 July by Dr Jamie Medhurst, Senior Lecturer in Media and Communication .
Presentation of Debbie Moon
Canghellor, Is-Ganghellor, Darpar-Raddedigion a Chyfeillion. Mae'n bleser o'r mwyaf cael cyflwyno'r awdures a'r sgriptwraig Debbie Moon, i'w hurddo yn Gymrawd yn y Brifysgol hon. Chancellor, Vice-Chancellor, Graduands and Friends. It's a great pleasure to present the author and scriptwriter Debbie Moon, as a Fellow of this University.
Debbie, according to the 140-character max description on her Twitter account is a 'BAFTA-winning TV and film writer. Creator of award-winning fantasy series Wolfblood (more of that anon) Walker of hills, friend of cats and (and this is the one I can relate to) consumer of tea and cake'.
Debbie's relationship with this University - and specifically with the Department of Theatre, Film and Television Studies - stretches back to 1990, when she studied Drama here. After graduating in 1993, Debbie intended to be a director, but she had begun writing short stories, which found success both in Britain and America. Since then, Debbie has had over fifty stories published and her first novel, Falling (published by Honno Press), was long-listed for Welsh Book of the Year. Shortly after graduating, Debbie also became involved in writing for radio and through a BBC mentoring scheme, worked with Ruth Jones (best known, perhaps as Nessa in Gavin and Stacey) on developing and writing a radio play.
For television, she has written for CBBC's The Sparticle Mystery and for the highly successful and locally-filmed Y Gwyll/Hinterland. Perhaps she is best-known as the creator and lead writer of CBBC's hit fantasy drama series Wolfblood, which premiered in 2011 and which will go into its fourth season next year. It is for Wolfblood that Debbie won the Royal Television Society Best Children's Drama Award in 2012 and her 2014 BAFTA Writer award. Wolf Blood has become an international success story and has been sold to Disney. On the inspiration behind the series, Debbie has written this: 'Wolfblood was inspired by a shelf of second-hand books. Which just goes to prove that writers can get inspiration from pretty much anything. I was standing in a charity shop, browsing the books, when my brain somehow read half of one title and half of the one next to it, producing a new title – Wolfblood. "Interesting," I thought. "What's a Wolfblood?" And thirty seconds later, I was dashing out of the shop to buy a notebook and pen and start scribbling…' Such has been the success of the series that you may now purchase Wolfblood pyjamas on Amazon (other online retailers available….)
Debbie has several feature scripts and television series currently in development and has also written comic books and audio adventure CDs and has had work broadcast on Radio 4. It was also announced last month that Debbie had been nominated to the panel of judges for the first ever UK International Veterans Film Festival. At the outset I described Debbie as an author and scriptwriter, but she is also an avid science fiction fan and has a penchant for films involving fast cars and swordfights. I have it on good authority that she is also an accomplished hamster whisperer.
But it is not for this impressive skill that we are honouring Debbie today. It is for her international success and for her nurturing and encouragement of new writing talent, be that through the work that she has undertaken with students on our scriptwriting courses or by supporting a wider audience through her use of social media. We are, as a department and University, rightfully proud of Debbie's achievements.
Parchus Ganghellor, mae'n fraint ac yn bleser o'r mwyaf gennyf gyflwyno i chi Debbie Moon, yn Gymrawd Prifysgol Aberystwyth.
Aberystwyth University Honours 2015
Twelve individuals are being honoured by Aberystwyth University during the 2015 graduation ceremonies, which take place at the University's Arts Centre from Tuesday 14 July until Friday 17 July.
Eight Honorary Fellowships will be presented to individuals who have, or have had a connection with Aberystwyth or Wales, and who have made an outstanding contribution to their chosen field.
Two Honorary Doctorate degrees will be presented to individuals who have been outstandingly successful in their field, or who have a long record of renowned research and publication.
Two Honorary Bachelor degrees will be presented to individuals who are members of Aberystwyth University staff without an entry-level degree in recognition of long-service, contribution and dedication to the Institution; and members of the local community who have made a significant contribution to Aberystwyth and the area.
Also being honoured are:
Honorary Fellowships:
• Eurwen Richards, former President of the Society of Dairy Technology and first female Cheese Master in the UK.
• Professor Robin Williams CBE, researcher in semiconductor physics, Fellow of the Royal Society and former Vice-Chancellor of Swansea University.
• Professor Miguel Alario-Franco, researcher in solid state chemistry and former President of the Royal Academy of Sciences of Spain.
• Lord Bourne of Aberystwyth, Parliamentary Under Secretary of State for the Department of Energy and Climate Change, and the Wales Office and an alumnus of Aberystwyth University.
• Dr Francesca Rhydderch, Award-winning novelist, former editor of New Welsh Review and Associate Professor of Creative Writing at Swansea University.
• Dr Lyn Evans, researcher in high energy physics and leader of the team that designed, built and commissioned the Large Hadron Collider.
• Iolo Williams, wildlife television presenter of more than 20 series for the BBC and S4C including Springwatch, Autumnwatch and Winterwatch, and former RSPB Species Officer for Wales.
Honorary Doctorate Degrees:
• Dylan Iorwerth, award-winning poet and author, radio and television presenter, founder and Directing Editor of Golwg Cyf and an alumnus of Aberystwyth University.
• Professor Huw Cathan Davies OBE, Fellow of the Royal Meteorological Society, former National Academy of Science Researcher at NASA Institute in Virginia and an alumnus of Aberystwyth University.
Honorary Bachelor Degrees:
• Bryn Jones, co-ordinator of the Penparcau Community forum and founding member of local arts and healthcare group 'HAUL'.
• Rhian Phillips, former Head teacher of Plascrug Primary School and International Schools Learning ambassador for Wales.