Leverhulme fellowship to map and forecast space weather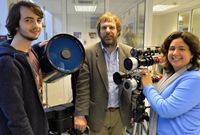 Dr Huw Morgan (centre) was a leading member of an international team that studied the 2015 solar eclipse.
Dr Huw Morgan from the Department of Physics at Aberystwyth University has been awarded a Leverhulme Trust Research Fellowship to map and forecast space weather.
The project aims to develop an automated 3-D mapping system to detect and locate Coronal Mass Ejections (CMEs) – solar eruptions which interact with the Earth's magnetosphere.
Under certain conditions, these solar eruptions are sufficiently powerful to interfere with infrastructure including satellites, thus causing widespread disruption to communication systems. Recent evidence also suggests that CMEs may have a significant effect on the climate of the Earth.
The improved detection of CMEs will enable the identification and forecasting of solar eruptions which are approaching Earth, thus providing more warning and a greater understanding of the effects.
In addition, the project will determine the 3-D structure of solar wind which forms stream interaction regions (SIRs) as a consequence of fast flows gathering behind slower streams. This will facilitate the earlier forecasting of SIRs approaching Earth and give an improved understanding of CMEs.
Dr Morgan said: "The Leverhulme Fellowship is a great opportunity for me to pursue several aspects of my research. I plan to develop and apply several new analysis methods to coronal observations, providing valuable new information on the solar wind and Coronal Mass Ejections. The Fellowship provides me with the necessary research time to achieve this quickly, allowing the Solar System Physics group's research to be more internationally competitive."
The Leverhulme Trust is a provider of funding across all academic disciplines in the UK, and provides research expenses and living costs to talented and experienced researchers, whose work is considered of exceptional importance in their respective fields.
Dr Huw Morgan
Dr Morgan has extensive research experience in solar physics, specifically the spectroscopy of solar corona. After completing his PhD on the subject at Aberystwyth University in 2005, he worked as a post-doctoral researcher at the Institute for Astronomy, University of Hawaii.
Recently promoted to Reader, Dr Morgan has been a Welsh-medium lecturer in the Department of Physics at Aberystwyth University for four years, where he has contributed to several astronomy modules, final year projects, and the development of a broad range of modules through the medium of Welsh.
Dr Morgan is a prominent advocate of public engagement in Astronomy and was a leading member of an international team that studied the 2015 solar eclipse.
Leverhulme Trust
The Leverhulme Trust was established by the Will of William Hesketh Lever, the founder of Lever Brothers. Since 1925 the Trust has provided grants and scholarships for research and education. Today, it is one of the largest all-subject providers of research funding in the UK, distributing approximately £80m a year. For more information about the Trust, please visit www.leverhulme.ac.uk.